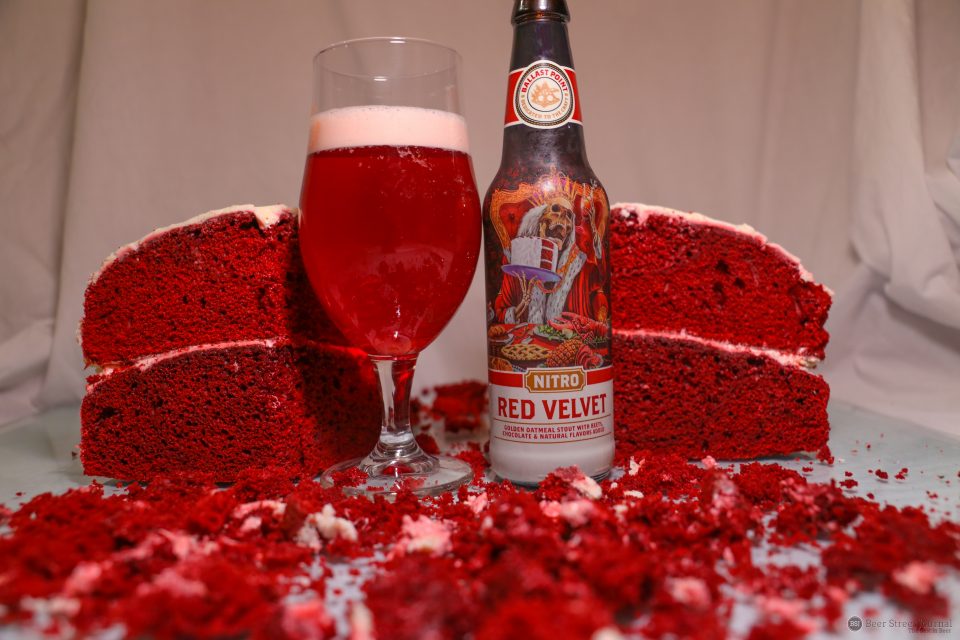 Ballast Point Red Velvet, seen on draft in the past, is now apart of a new "Nitro" bottle program.
Nitrogen infused bottles, once used exclusively by world renowned Guinness, have been adopted by various U.S. based breweries over the past few years. Left Hand Brewing was notably first with Nitro Milk Stout bottles debuting at the Great American Beer Festival in 2011.  Samuel Adams and Oskar Blues have followed up with their own nitro releases. Now Ballast Point has their own nitrogen infused bottles to kick off 2017.
Ballast Point Red Velvet, a unique twist on an oatmeal stout, is a future Nitro Series release already available on nitro taps. The California based brewery created a chocolatey stout that resembles the cake for which it was named. So much so that pours red, thanks the to a hefty helping of beet juice. The foamy head on the beer truly is the icing on the cake.
You want a beer that gets weird? You've found it. It's a stout that pours blood red, and tastes a bit like chocolate frosting, and creamy too. A beer that really makes you feel all the feels because your eyes are telling you one thing and your tastebuds are telling you another. Don't worry about the beats either. You'll only find them in the color. A tasty mindfu$k indeed.
Nitrogen bottles are a first for Ballast Point, which recently expanded their can lineup to include releases like Grapefruit Sculpin, Mango Even Keel, and Watermelon Dorado (just to name a few). 
Ballast Point Red Velvet is a 12 ounce bottle release, shipping nationally starting in January, 2017.
Style: Oatmeal Porter (Chocolate, Beets, Nitrogen.)
Availability: Draft (Current), 12oz Bottles
Debut: January, 2017
5.5% ABV