Topic Archives:
Chili Peppers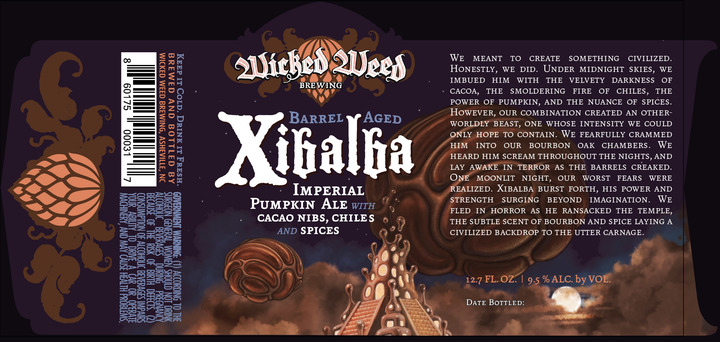 Wicked Weed Barrel Aged Xibalba, a barrel-aged edition of the brewery's pumpkin beer, has hit shelves.
The imperial pumpkin ale boasts chilies, cacao nibs, and spices, back for a second year in 2016. Somewhere in the mix, Wicked Weed split off some into bourbon barrels. Check out the narrative below –
We meant to create something civilized. Honestly, we did. Under midnight skies, we imbued him with the velvety darkness of the cacao, the smoldering fire of chilies, the power of pumpkin, and the nuance of spices. However, our combination created an other-worldly beast, one whose intensity we could only hope to contain. We fearfully crammed him into our bourbon oak chambers. We heard him scream throughout the nights, and lay awake in terror as the barrels creaked. One moonlit night, our worst fears were realized, Xibalba burst forth, his power and strength surging beyond imagination. We fled in horror as he ransacked the temple, the subtle sent of bourbon ad spiced laying a civilized backdrop to the utter carnage.
Wicked Weed Barrel Aged Xibalba (aka she-bahl-ba) hits shelves this week in 12.7 ounce bottles.
Style: Pumpkin Ale (w/ Cacao Nibs, Chilies, Spices. Barrel Aged. Bourbon.)
Availability: 16.9oz Bottles, Draft. Seasonal
Debut: Mid-September, 2016
9.5% ABV