Topic Archives:
Strong Ale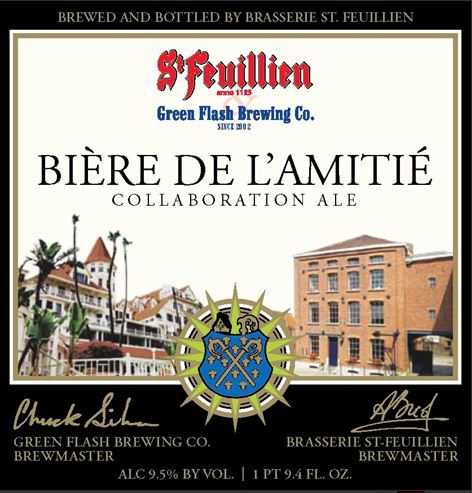 The rumor of Green Flash Brewing coming to Atlanta has been the rumor most frequently repeated.  While the San Diego County, California brewer is still not officially hitting the state, a beer Green Flash collaborated on is arriving.  It's called Bière De L'Amitié.  Green Flash collaborated with Brasserie St-Feuillien from Belgium.  Here's the story –
During a recent twelve day Great Belgium Beer Tour, brewer's from Green Flash Brewing Co. of San Diego County, California and Brasserie St. Feuillien of Le Roeulx, Belgium teamed up to produce the first-ever collaboration ale between American and Belgian family-owned breweries. The beer will be called Bière De L'Amitié, or Friendship Brew, and will be released in the United States in June 2010.
Dominique Friart, Administrator Deputy (C.E.O.) of St. Feuillien, visited Green Flash on a 2009 trip to the United States. Green Flash had collaborated with several U.S. breweries on special ales in recent years with great success, brews many Belgian-inspired ales, and has a great admiration for Belgian tradition. Mike Hinkley, Green Flash CEO, jumped at the chance to suggest the collaboration to Ms. Friart. After several conversations, both parties grew excited about the prospect of this brewing adventure.
A brewing date was scheduled for March 9, 2010. Over the months leading up to the brew, Chuck Silva and Alexis Briol, Green Flash and St Feuillien's brewmasters, set out to create a brew that would bring together five generations of Friart Family traditional Belgian ale and the cutting edge and innovative brewing techniques used at Green Flash. Chuck Silva said, "Brewing with Alexis at St. Feuillien was a great honor, lots of fun, and I think we created a fantastic brew. This is a convergence of great Belgian tradition and Green Flash innovation."
Bière De L'Amitié is a Blond Belgian Strong Ale, brewed with St. Feuillien's traditional yeast and secret spices. For a Green Flash-style modern twist, rye and wheat malts were added to the mash and American Amarillo hops used in a late boiling kettle addition. Then the beer was dry-hopped with more Amarillo for even more hop flavor, aroma and zest.
Style: Described as Belgian blonde strong ale.
Availability: 750 ML Bottles.  Corked & Caged.  Draft offerings also.  1 time collaboration offering.
9.5% ABV
Arrival: Friday 8/6