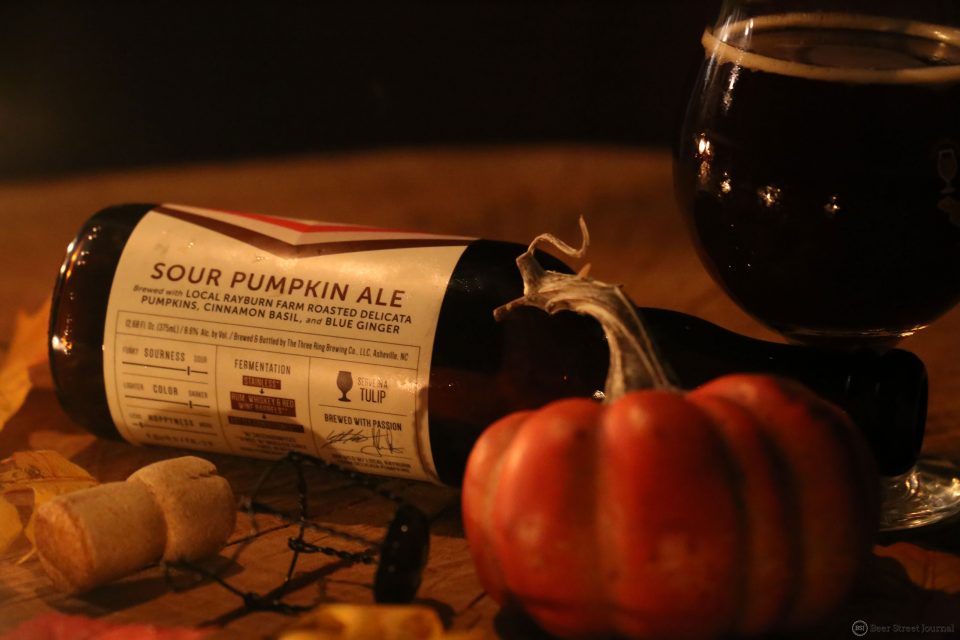 Hi-Wire Sour Pumpkin Ale is all over the flavor map. That's a good thing. There's a lot going on in this beer.
As fall creeps in, Asheville, North Carolina based Hi-Wire Brewing has released Sour Pumpkin Ale. Put the pumpkin spiced latte down because things are about to get a little weird.
After spending time wandering around local Rayburn Farm, Hi-Wire was struck with the idea of sourcing a beer from a single farm source. Sure, this is a pumpkin ale so you're probably thinking something with pumpkins, cinnamon, and cloves. Make it taste like pie and ship it, right? Wrong.
Let's talk pre-barrel. The base beer spent time in stainless steel tanks, with roasted delicata pumpkins, cinnamon basil, and blue ginger. Blue ginger is a Hawaiian variety known for its superior flavor. Cinnamon basil is also called Mexican spice basil. Methyl cinnamate found in the cultivar gives off flavors of the cinnamon spice when the leaves are crushed.
If this beer is already sounding unique, Hi-Wire isn't done yet. After three months in stainless steel, the beer was split into rum, whiskey, and red wine barrels for six months, then blended back again. There's nothing "basic" about this creation.
At this point, it is downright impossible to use something as simple as "pie" to describe Hi-Wire Sour Pumpkin Ale. It just doesn't fit. Sour Pumpkin is aggressively sour as you dive in, melding into a light wash of ginger and cinnamon. As the beer warms, the blend of barrels are fighting for palate domination. Honestly, we think the rum won. This is no simple wild ale, with typical flavors. Everything about this beer is unpredictable in the best of ways. Speaking in the spirit of Hi-Wire's hometown of Asheville, "Keep Fall Weird."
Hi-Wire Sour Pumpkin Ale is a limited,  375-milliliter bottle release. Not for the faint of heart (or palate).
Style: American Wild/Sour Alehttps://beerstreetjournal.com/tag/american-wild-ales/ (w/ Pumpkin. Blue Ginger. Cinnamon Basil. Barrel Aged. Whiskey. Red Wine. Rum.)
Availability: 375ml Bottles
Debut: 9/2/17
8.6% ABV
PIC: Beer Street Journal