Topic Archives:
Barrel Aged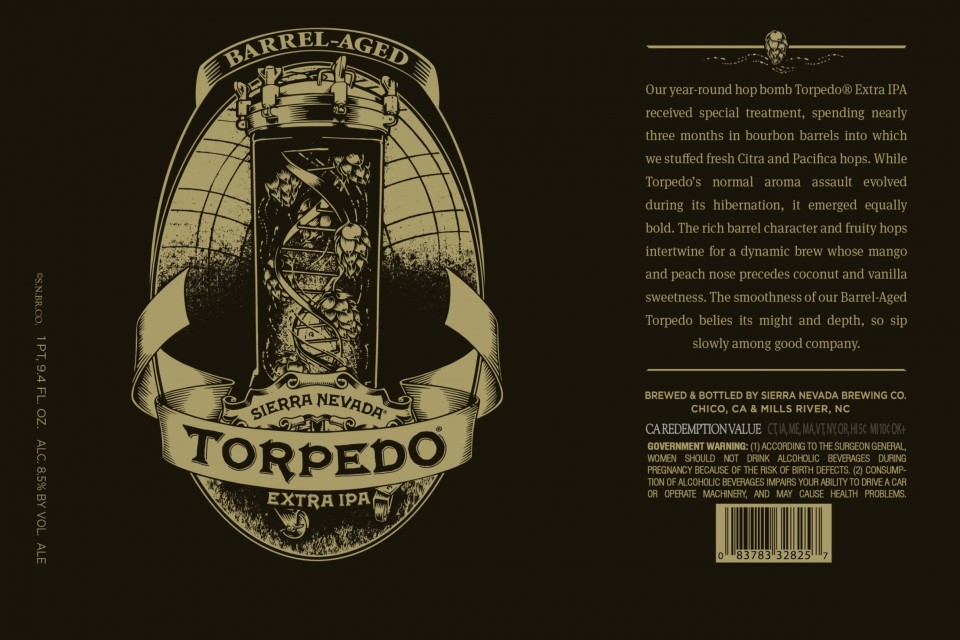 Sierra Nevada will celebrate the first anniversary of their Torpedo Room in Berkeley, California next month. In honor of this milestone, the brewery is releasing Barrel-aged Torpedo Extra IPA.
A year ago, Sierra Nevada opened the Torpedo Room on Fourth Street in Berkeley, California. The intimate space features 16 taps ranging from year round offerings to small batch offerings. A small taste of the Sierra Nevada culture nestled away from the hustle and bustle of Chico. (or Mills River for that matter.)
Our year round hop bomb Torpedo Extra IPA received special treatment, spending nearly 3 months in bourbon barrels into which we stuffed fresh Citra and Pacifica hops. While Torpedo's normal aroma assault evolved during its hibernation, it emerged equally bold. The rich barrel character and fruity hops intertwine for a dynamic brew who's mango and peach notes precede coconut and vanilla sweetness. The smoothness of our Barrel Aged Torpedo the lies it's my in-depth, so sip slowly and among good company.
Sierra Nevada Barrel-aged Torpedo Extra IPA will be available in 750ml bottles, corked & caged at the Torpedo Room, and the gift shops in Mills River, NC, and Chico, CA.
Style: Imperial IPA (Barrel Aged. Bourbon.)
Availability: 750ml bottles
Arrival: November, 2014
8.5% ABV