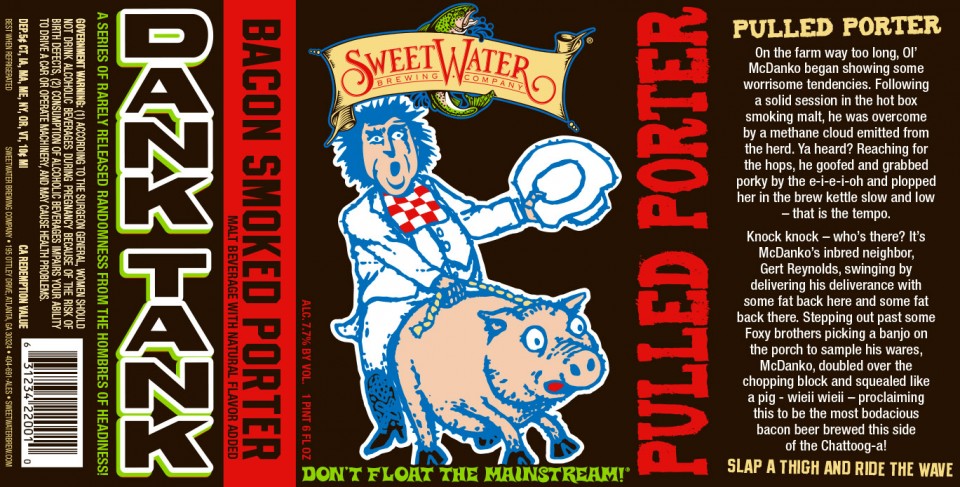 SweetWater Pulled Porter is next up in the brewery's Dank Tank Series. Like many other breweries, the Dank Tank series offers brewers a chance to experiment and play.
SweetWater Pulled Porter is probably one of the most experimental yet, using one of the brewery's base porters, with smoked malt for a bacon-y flavor. Back in October, SweetWater took malt to one of Atlanta's most celebrated bbq joints, Fox Brothers. The malt was slow smoked over the course of three days, ahead of brew day.
On the farm way too long, ol' McDanko began showing some worrisome tendencies. Following a solid session in the hot box smoking malt, he was overcome by a methane cloud emoted from the herd. Ya heard? Reaching for the hops, he goofed and grabbed porky by the e-i-e-i-oh and plopped her in the brew kettle slow and low —that is the tempo. Knock knock —who's them? It's McDanko's inbred neighbor, Geri Reynolds, swinging by delivering his deliverance with some fat back hem and some fat back them. Stepping out past some Foxy brothers picking a banjo on the porch to sample his wares, McDanko, doubled over the chopping block and squealed like a pig – wieii wieii — proclaiming this to be the most bodacious bacon beer brewed this side of the Chattoog-a!
SweetWater Pulled Porter is a draft and 22 ounce bottle offering.
Note: The brewery has not announced this offering. Also, it has not commented about the ACTUAL use of bacon in the brewing process. If you don't eat bacon, or meat, and it says bacon on it, probably good not to drink it. (Common sense statement there.)
Style: Smoked Porter
Availability: 22oz Bottles, Draft
Release: December, 2015
7.7% ABV