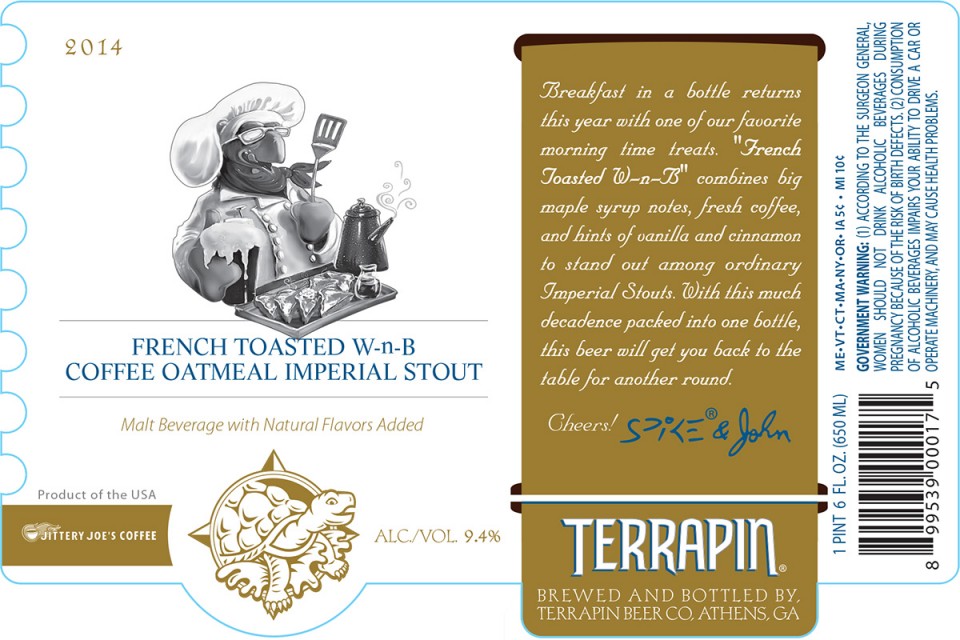 Terrapin Beer Company (Athens, GA) will follow up Moo-Hoociato with and spin on W-n-B, French Toasted W-n-B.
As the brewery's robust, coffee-laden imperial stout is hitting shelves for the 10th year, French Toasted W-n-B won't be far behind, utilizing Athens, Georgia based Jittery Joe's coffee, plus maple syrup, vanilla, and cinnamon to make a beer perfect for breakfast.
Breakfast in a bottle returns this year with one of our favorite morning time treats. French toasted w-n-B combines big maple syrup notes, fresh coffee, and hence of vanilla and cinnamon to stand out among the ordinary Imperial Stout. With this much decadence packed into one bottle, this beer will get you back to the table for another round.
Terrapin French Toasted W-n-B will be available in 22oz bottles and draft. Moo-hoochiato will hit shelves soon. Beer Street Journal is told French Toast W-n-B will arrive before the end of 2014.
Style: Imperial Stout (w/ Coffee, Maple Syrup, Cinnamon.)
Availability: 22oz Bombers, waxed capped. Draft. Limited.
Arrival: TBA
9.4% ABV
Read more: Terrapin Special Reserve Series