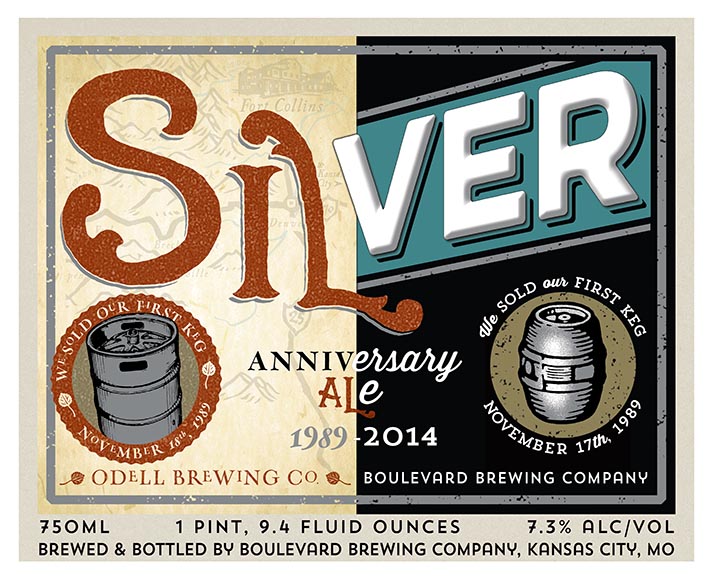 2014 marks the silver anniversary for American craft brewers Boulevard Brewing  (Kansas City, MO) and Odell Brewing (Ft. Collins, CO).
On November 17th, 1989, John McDonald sold his first keg of Boulevard beer. One day later, John Odell sold his first keg, kicking off a quarter century of brewing success. To honor the occasion, the breweries are creating Silver Anniversary Ale.
On November 17, 1989 John McDonald loaded a keg of Boulevard Pale Ale into the back of his pick up truck and drove to a restaurant a few blocks down the street. Scarcely 24 hours later and 650 miles away, Doug Odell loaded a keg of Odell Golden Ale into the back of his pick up truck and… You get the idea. They were the first kegs of beer either of them ever sold, but they wouldn't be the last. This golden copper ale celebrates 25 years of brewing with an ample body of caramel – toffee malt balance by piney hop notes. Here's a toast to working hard and sticking with it. Cheers!
Both Odell Brewing and Boulevard Brewing are slated to release either own editions of Silver Anniversary Ale. The Boulevard edition depicted here will be packaged in 750ml bottles.
Style:
Availability: 750ml bottles, Draft.
Arrival: TBA
7.3% ABV