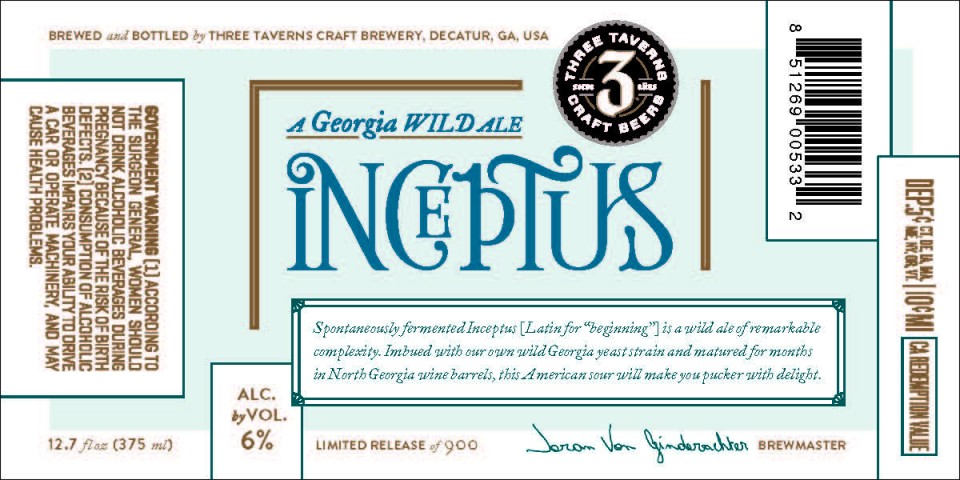 A little Beer Street Journal exclusive for you beautiful people. Three Taverns Inceptus, will be the Decatur, Georgia brewery's first sour ale.
Three Taverns Inceptus has a story, as every beer does, but this one is a little different. On the rare occasion Atlanta gets snow, it grinds the city to a complete halt. Joran Van Ginderachter, Three Tavern's brewmaster, went to work. He's Belgian. He loves beer. That's what he does.
As it happened, Joran walked into the brewery that day with an ear-to-ear grin. The crisp, frigid air, he announced, was clean and healthy. In sum, perfect conditions for open fermentation, a process by which wild yeast is "caught" from the air instead of cultivated.

So the brewers transferred wort into a mini-fermenter and placed it outside, exposed to the air. Over the next few days they observed the signs of spontaneous fermentation and were rewarded with a wild yeast strain that literally arrived with the wind.
After primary fermentation, the wort was transferred to oak barrels and the rest has been up to time. Three Taverns Inceptus is aged in North Georgian wine barrels, with wild-caught yeast.
Three Taverns Inceptus will be available in 12.7 ounce bottles in August
Style: American Wild/Sour Ale (Wine Aged)
Availability: 12.7 oz bottles.
Release: 7/18/15
Ed note: Bottle release date changed to August.