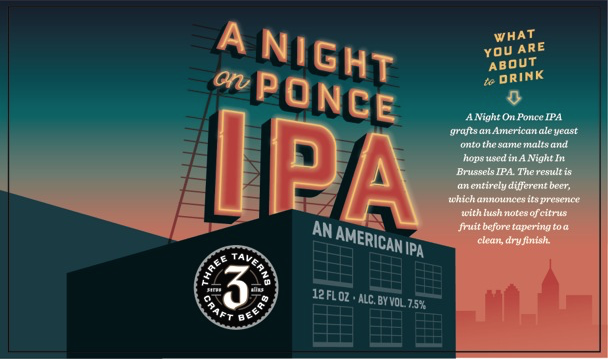 Three Taverns A Night On Ponce heads to bottles on June 5th. This beer is an American spin on the brewery's A Night in Brussels.
Three Taverns launched with A Night in Brussels, a year-round Belgian-style IPA. To create Three Taverns A Night on Ponce, the brewery used the same recipe for Brussels, and swapped out the Belgian yeast to an American yeast.
The name and artwork (seen above) depicts one of Atlanta's famous streets, Ponce de Leon Avenue.
A Night on Ponce IPA grafts an American ale yeast onto the same malts and hops used in A Night in Brussels IPA. The result is an entirely different beer, which announces its presence with lush notes of citrus fruit before tapering to a clean, dry finish.
Three Taverns A Night on Ponce joins the brewery's lineup on June 5th, in 12oz bottles and draft.
Style: IPA
Availability: 12oz Bottles, Draft.
Release: 6/5/15
7.5% ABV