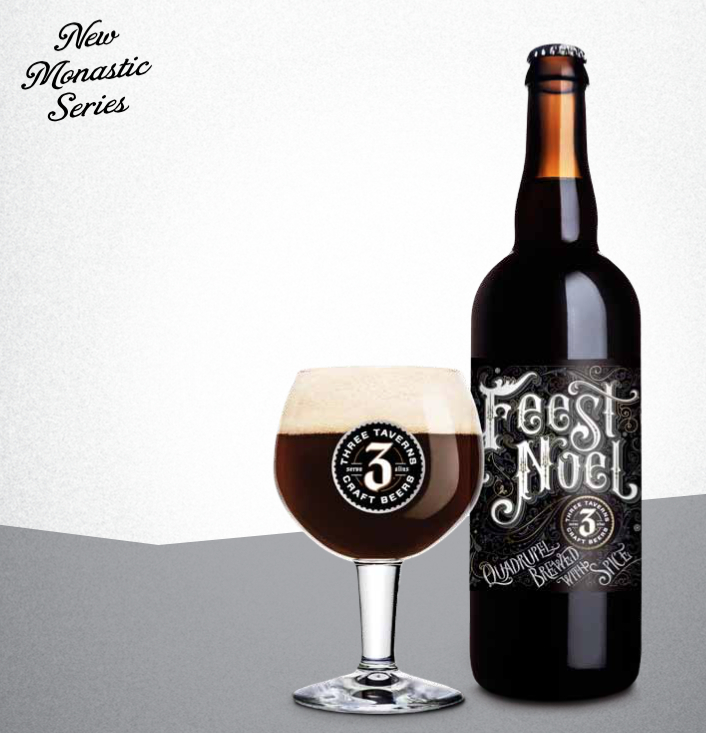 Last year was the debut of Three Taverns (Decatur, GA) Christmas offering, Feest Noel. It arrived draft only.
This year, the brewery will bottle Feest Noel in 750ml bottles alongside draft this year.
FEEST NOEL is merriment in aglass—a spiced Christmas ale meant to evoke joy and mystery. Merriment is a hallmark of the holiday season, seasoning our greetings and our gatherings. This Belgian-style quadrupel uses dark roasted malts, imported Belgian dark candy sugar, and spiced accents of cardamom, allspice and cloves. Make this rich ale a part of your holiday celebration.
Three Taverns also is debuting their first barrel aged offering Heavy Bells this week.
Style: Quadrupel (w/ Cardamom, Allspice, Clove)
Availability: 750ml Bottles, Draft.
Arrival: November, 2014
10% ABV, 30 IBUs