Topic Archives:
Stone Collaboration Series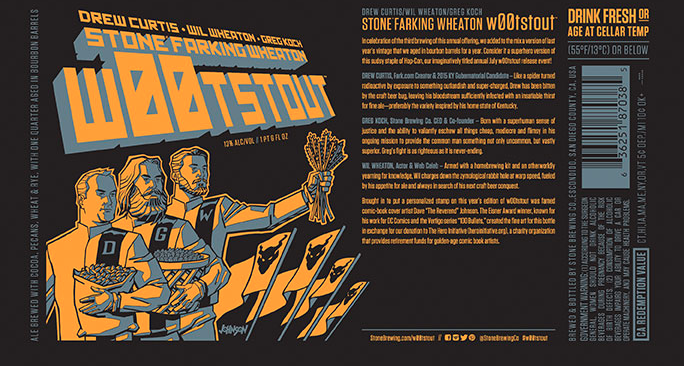 Stone Brewing Company looks to bring the nerd gang back together with another release of Stone Farking Wheaton w00tstout.
Back in 2013,  Stone's co-founder Greg Koch teamed up with Will Wheaton (aka Wesley Crusher from Star Trek: Next Gen) and Fark.com founder Drew Curtis. The group created an Stone Farking Wheaton w00tstout, imperial stout with pecans and rye malt that was partially barrel aged. Then, 2014 rolled around and brought w00tstout 2.0, and a new actress into the collaboration, Aisha Tyler.
Stone Farking Wheaton w00tstout is back on shelves again, with the original folks back at the brewing realm. For this third edition, the brewery added last year's vintage that Stone has been aging in bourbon for more than a year.
This years artwork was created by comic book cover artist Dave "The Reverend" Johnson. Stone Farking Wheaton w00tstout is now available in 22oz bottles starting July 8th, 2015.
Style: Imperial Stout (w/ Pecans, Rye, Barrel Aged. Bourbon)
Availability: 22oz bombers, Draft
Distribution: AK, AL, AZ, CA, CO, CT, DC, DE, FL, GA, HI, IA, ID, IL, IN, KS, KY, LA, MA, MD, ME, MI, MN, MO, MT, NC, NE, NH, NJ, NM, NV, NY, OR, PA, RI, SC, TN, TX, VA, VT, WA and Puerto Rico
Internationally:  Australia; Alberta and British Columbia, Canada; Japan; and Singapore
Arrival: July, 2015
13% ABV, 45 IBUs