Topic Archives:
Half Acre Brewing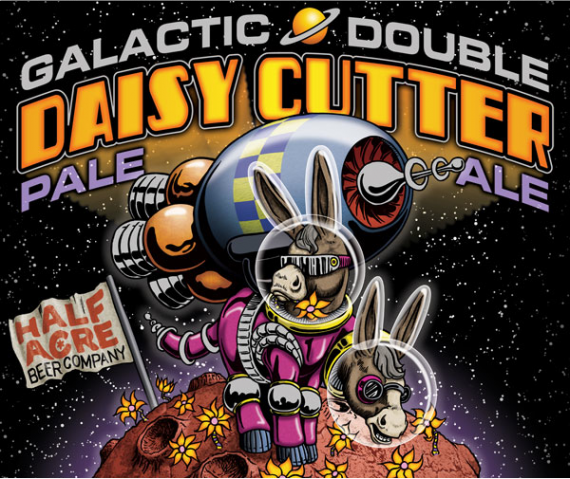 UPDATE 8/11:  Goes on sale 8/19. Bombers, $9.99, Growler Refill $17, New Fills $21. 6 bottle limit per person.  On sale at 12 noon.
Half Acre Brewing (Chicago, IL) just brewed up a new version of Double Daisy Cutter – Galactic Double Daisy Cutter.  The regular edition of Daisy Cutter is a hoppy American pale ale.
From HA:
We've brewed a variant of Double Daisy Cutter we're calling Gallactic Double Daisy Cutter. This version highlights Galaxy hops, a bruiser grown in Australia specifically to make pallets numb.
 We're giving this one some time to relax in the tank, but it's looking like it will land in our brewery store on August 12th. Should that change in any way, then we'll let you know. We will be selling bombers and growlers. We're even going to throw some wax on this one…
 The label, seen above, is particularly galactic. What you can't see here is the metallic silver that will print in the gray areas. Two headed donkeys never looked so good.
Arrival: TBD