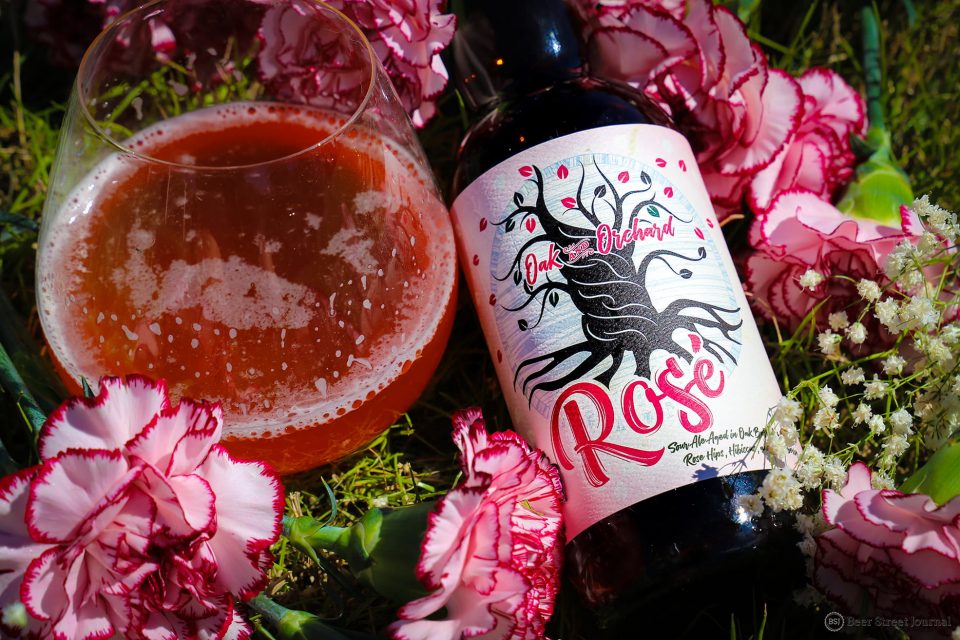 There are plenty of rośe inspired beers in the beer market right now. While they almost incorporate grapes, Epic Brewing Rośe, from the brewery's Oak & Orchard Series, achieves a rose flavor with strawberries and an "epic" house mixed culture wild ale.
Epic Brewing's sour program continues to impress us. Recent Oak & Orchard releases like Strawberry Rhubarb, and Pink Guava were some of the best American wild ales we tried at Beer Street Journal in 2018. (Incidentally, their Quadruple Barrel Baptist was one of our 2018 favorites as well.) Rośe Ale truly keeps this impressive flavor journey alive and well into a new year.
Strawberries, hibiscus, and rose hips are part of the approach for Epic Rośe. Each sip is a wash of oaky tart strawberry flavors, with a light, lingering floral aroma on your palate. The rose hips and hibiscus are perfectly subtle. This might be more enjoyable the sipping actual rośe wine. Far less sugary, and in our opinion, far more complex than any pink wine you'll find at the same price point.
American wild ales grow in popularity in the United States every year.  If you don't know what to look out for,  let us help. Don't dare sleep on Epic's Oak & Orchard Series. We fought over the last sips of Pink Guava, and sipping this Rośe Ale in the sun with hints of spring in the air made for a downright poetic drinking experience.
We can't wait to see what the brewery does next ?.
Style: American Wild Ale (w/ Rose Hips. Hibiscus. Strawberries. Oak Aged.)
Hops: Tettnang
Malts: Pilsner, White Wheat, Spelt, Flaked Oats
Availability: 12.7oz Bottles
Debut: February 2019
7.1% ABV