Topic Archives:
California

Mad River Brewing is based in Blue Lake, California.  Just announced recently the official addition of a barrel aging program.  From Mad River:
Our brewing team is very excited about the launching of the Mad River barrel program! February 25th, 2011 saw the filling of Heaven Hill Bourbon barrels with our Steelhead Extra Stout and our John Barleycorn Barleywine 2010 Cellar Reserve.  These barrels will be aged 3 to 4 months for the stout and up to 7 months for the barleywine, with draft release dates to be determined. In addition, an extremely limited bottling of each will be made available at our tasting room in Blue Lake, California. This will be a self-funding and perpetual program in the many years to come
Website —> http://www.madriverbrewing.com/
Sierra Nevada Brewing (Chico, CA) will be adding a canning line sometime in 2011.  Details are not widely known, I consulted Chad Mc Rae with the brewery that shed a little light on the status of things:
"We are going to introduce cans in late 2011, they will be in addition to bottles, but will ultimately be a small part of our business. We have no firm commitments to brands or package size, as of yet, but we will send out more formal releases as we know more information."
Either way, some big news.  Updates to follow.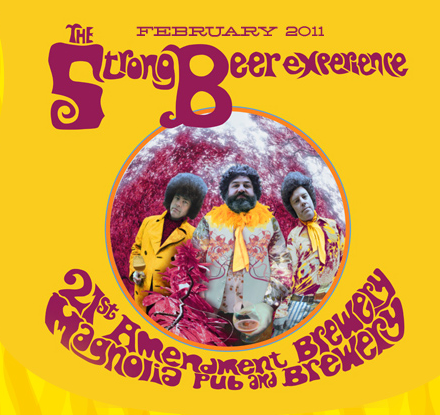 21st Amendment Brewing & Magnolia Gastropub & Brewery have once again collaborated on "Strong Beer Month".  As described on the webpage dedicated to the occasion:
Magnolia and 21st Amendment are proud to collaborate together once again on strong beer month.  It's an opportunity to explore the ritual & traditions of brewers commemorating seasons and occasions with special brews, usually strong in nature and intended for sipping and contemplation.
Both Magnolia & 21A have special strong brews at each of their respective locations in San Francisco, CA.  By the looks of it – barleywines, imperial stouts, tripels and more.  I'm sure if you aren't in the area, there are plenty of strong beers to drink along with  If you Twitter – use #StrongBeerMonth.
Website —> www.strongbeermonth.com