Ken Grossman, Founder of Sierra Nevada Brewing Co, is busy brewing beer and building breweries.  What you might not know, is that he has a book coming out soon too. Beyond The Pale will be released on October 16, 2012.
Beyond the Pale chronicles Ken Grossman's journey from hobbyist homebrewer to owner of Sierra Nevada Brewing Co., one of the most successful craft breweries in the United States. From youthful adventures to pioneering craft brewer, Ken Grossman shares the trials and tribulations of building a brewery that produces more than 800,000 barrels of beer a year while maintaining its commitment to using the finest ingredients available. Since Grossman founded Sierra Nevada in 1980, part of a growing beer revolution in America, critics have proclaimed his beer to be "among the best brewed anywhere in the world."
Beyond The Pale will be available in both Kindle and hardback editions.  Pre-order now, and it will set up back a mere $16 or less.  [Amazon]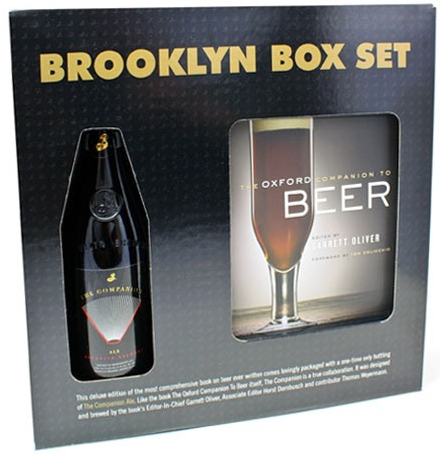 The Companion, a wheat wine and Brooklyn brewmaster Garrett Oliver's new companion guide to beer, is now available in a box set.  The catch?  You can only buy it AT the brewery store.
The set as a rare, 750ml bottle conditioned version of The Companion Ale,  and a signed copy of the book. The bottle is ONLY available in the set.
The Brooklyn Companion Box Set is $80.00, and can be obtained only in person at The Brooklyn Brewery (79 North 11th Street, Williamsburg, Brooklyn, NY 11249) during our public hours.
About The Beer:
The Companion Ale. Made with 55% new floor malts from Weyermann Maltings, The Companion is brewed in an old style called "wheat wine", a wheat-based equivalent to barley wine. The floor malts give this beer a juicy malt character of considerable depth, 55% malted wheat gives it a surprising lightness on the palate, while our house ale yeast lends a gentle fruitiness.
Stone Brewing's book The Craft Of Stone Brewing Co: Liquid Lore, Epic Recipes, and Unabashed Arrogance goes on sale tomorrow.   The brewery is celebrating in style, with a release party at the brewery.
Tomorrow those who pre-ordered with have a great day.  You pick up your book, AND if you buy the book you are in for a special treat – one of the coveted Quingenti Millilitre beers.  Actually, for each copy of the book that you purchase, you are given the option to buy a bottle.
The new Quingenti beers in this release are ($25+tax):
2010 Stone Old Guardian Barley Wine Aged in Bourbon Barrels
2010 Stone Old Guardian BELGO Barley Wine Aged in Bourbon Barrels
2010 Stone Old Guardian BELGO Barley Wine Aged in Red Wine Barrels
The tap room party kicks up at 4pm, with a special hoppy lineup of course: (Homebrew recipes in this book!)
Stone Ruination IPA Double Dry Hopped w/ Delta & Galaxy Hops
Stone Sublimely Self-Righteous Ale Double Dry Hopped w/ Apollo & Target Hops
Stone 15th Anniversary Escondidian Imperial Black IPA Double Dry Hopped w/ Motueka and Pacific Jade Hops
Stone 14th Anniversary Emperial IPA
2004 Stone Old Guardian Barley Wine*
Dogfish Head / Victory / Stone Saison du BUFF*
Stone 12th Anniversary Bitter Chocolate Oatmeal Stout in bottles*
Those looking for a deal can find it at
Amazon.com.
 The book is currently on sale for $15.03 in hardcover.
Interesting in what is in the book? Here's the table of contents…