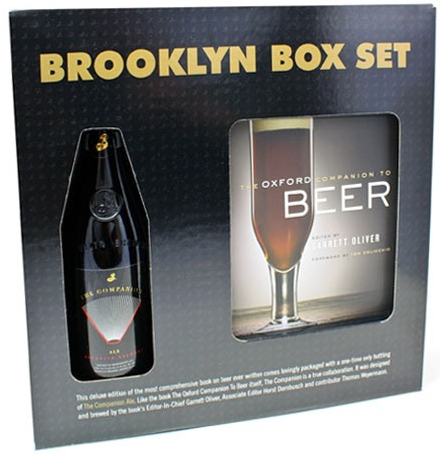 The Companion, a wheat wine and Brooklyn brewmaster Garrett Oliver's new companion guide to beer, is now available in a box set.  The catch?  You can only buy it AT the brewery store.
The set as a rare, 750ml bottle conditioned version of The Companion Ale,  and a signed copy of the book. The bottle is ONLY available in the set.
The Brooklyn Companion Box Set is $80.00, and can be obtained only in person at The Brooklyn Brewery (79 North 11th Street, Williamsburg, Brooklyn, NY 11249) during our public hours.
About The Beer:
The Companion Ale. Made with 55% new floor malts from Weyermann Maltings, The Companion is brewed in an old style called "wheat wine", a wheat-based equivalent to barley wine. The floor malts give this beer a juicy malt character of considerable depth, 55% malted wheat gives it a surprising lightness on the palate, while our house ale yeast lends a gentle fruitiness.