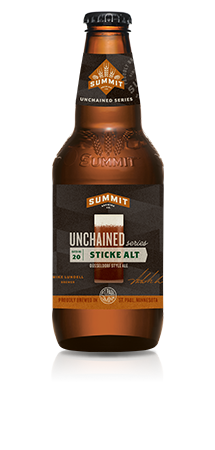 Summit Sticke Alt added to the brewery's "Unchained Series" as Batch 20.
Summit Sticke Alt, meaning "secret" beer in German, is traditionally a beer confidentially brewed and diligently passed around by word of mouth. The malty and hop flavors and medium-dark body of Sticke Alt are truly one-of-a-kind because the mixture is never brewed up twice the same way.
The Summit Sticke Alt official release will be at the Unchained 20 Sticke Alt Party with Summit brewer Mike Lundell Wednesday, October 14, 2015, at The Muddy Pig in Saint Paul, Minnesota.
Summit Sticke Alt is a limited release beer and will also be available at the Summit Sticke Alt Release and Harvest Party Saturday, October 17, 2015, at the brewery, as well as a dinner  Eden Avenue Grill (Edina, MN) on 10/22.
Style: Altbier
Hops: Hallertau Mittelfruh
Malts: Pilsener, Vienna, Light Munich, Dark Munich, Caramel and Black
Yeast: German Ale
Availability: 12oz Bottles, Draft.
6.3% ABV, IBUs: 55