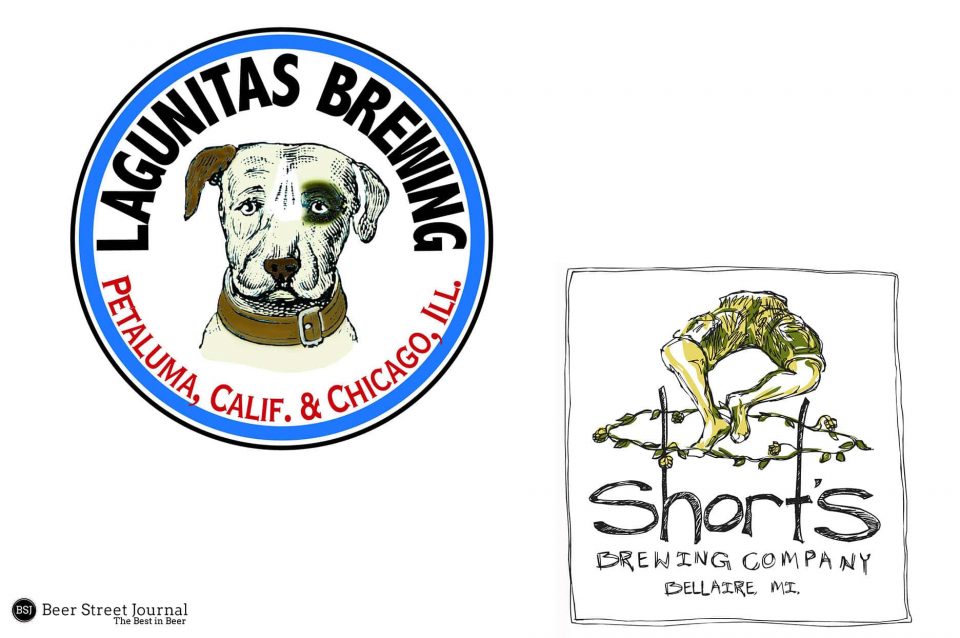 Lagunitas Brewing and Elk Rapids, Michigan based Short's Brewing have formed a new partnership. Lagunitas has purchased a 19.99% equity stake in Short's Brewing.
According to Short's, this partnership will allow the brewery to gain access to additional resources (besides cash) and, "continued opportunity to invest in Short's staff, and the northern Michigan community."
The equity stake will be managed by Lagunitas U.S. Holdings (LUSH).
Joe Short, founder of Short's Brewing characterizes this partnership an evolution in the cycle of their dynamic and growing business:
"I never imagined Short's would become such a successful regional brewery. The secret to that success has always been to surround myself with good people. The best people; who in many ways are smarter and more talented than myself. I'm confident all successful businesses would tell you a similar story. This partnership with Lagunitas is just another part of evolution in the cycle of our dynamic and growing business. I've grown so much personally and professionally during my time at the helm of Short's Brewing Company that I understand now, more than ever – the continued success of Short's and its people rely on me to make smart and strategic decisions. This is just one of them."
Lagunitas sold a 50% stake of the brewery to Heineken in 2015. Earlier this year, Lagunitas "fully merged" with Heineken, selling the remaining 50% stake.
According to the Brewers Association, Short's Brewing will remain an independent craft brewery. Per their definition of Independent:
Less than 25 percent of the craft brewery is owned or controlled (or equivalent economic interest) by an alcohol industry member that is not itself a craft brewer.
The Need For Equity.
Beer Street Journal spoke with Scott Newman-Bale, a partner in Short's Brewing. For nearly six months now, Short's has been operating at 100% capacity. The brewery has less than 2 days of reserves, with trouble keeping beer on shelves in all of their current markets. A great position to be in, but also – financially complicated. Newman-Bale was wary of turning to a traditional financial institution, citing past horror stories of bankers asserting control in what a brewery does.
Lagunitas founder Tony Magee and the folks at the brewery are good friends with Short's. "They don't take themselves too seriously and really understand us," Newman-Bale said. "An equity partnership with Lagunitas would be with folks that would financially help us meet our goals, but really just leave us alone to do what we want. That's rare," he said.
So what's in it for LUSH? Newman-Bale states that Magee is still very supportive of America's burgeoning beer scene. LASH exists to be a strategic partner for growth opportunities like this. Not global domination. When asked the "complicated" question about the stigma of accepting cash from Lagunitas, which is owned by Heineken, Newman-Bale simply replied, "Yeah, we know what that means. We get that. That doesn't matter to us. Over time you'll see how well this works out."
The 19.99% is actually regulatory and not made up for fun marketing purposes. As far as Short's is concerned, there will be no more equity buy-in to the brewery. This will hopefully be it.
The future holds minor capital expansions to the Elk Rapids production facility. This will allow fresh beer to flow in current Short's markets, especially ones that are currently running dry. Right now, beer goes from packaging to shelves in less than a week. There will be no production outsourcing, no leadership changes, no recipe changes.
Even with the small brewery expansions, Newman-Bale states there are no new territories planned. "We have to keep our promises to our current markets first."
Short's opened their brewpub in Bellaire, Michigan in 2004. In 2009, the brewery opened their Elk Rapids production facility.  Short's is expected to produce 50,000 barrels (1.5 million gallons) of beer in 2017.