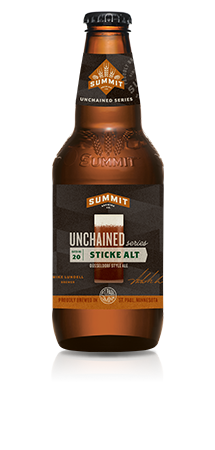 Summit Sticke Alt added to the brewery's "Unchained Series" as Batch 20.
Summit Sticke Alt, meaning "secret" beer in German, is traditionally a beer confidentially brewed and diligently passed around by word of mouth. The malty and hop flavors and medium-dark body of Sticke Alt are truly one-of-a-kind because the mixture is never brewed up twice the same way.
The Summit Sticke Alt official release will be at the Unchained 20 Sticke Alt Party with Summit brewer Mike Lundell Wednesday, October 14, 2015, at The Muddy Pig in Saint Paul, Minnesota.
Summit Sticke Alt is a limited release beer and will also be available at the Summit Sticke Alt Release and Harvest Party Saturday, October 17, 2015, at the brewery, as well as a dinner  Eden Avenue Grill (Edina, MN) on 10/22.
Style: Altbier
Hops: Hallertau Mittelfruh
Malts: Pilsener, Vienna, Light Munich, Dark Munich, Caramel and Black
Yeast: German Ale
Availability: 12oz Bottles, Draft.
6.3% ABV, IBUs: 55
Old Chicago Pizza & Taproom is a staple out west. The restaurant got its start back in 1976 in Boulder, Colorado, bringing pizza and beer to a cold hungry city. The restaurant has grown ever since.
Keeping in touch with their Colorado roots, a craft beer destination, Old Chicago Pizza & Tap Room doesn't hesitate to collaborate with local craft breweries whenever possible. That's where St. Paul, Minnesota's Summit Brewing came into the picture.
Old Chicago's desire to give the customer a unique experience lead the duo to team up on Old Chicago/Summit Brewing "Cracking Wit."
Folks at Old Chicago recently spent the day brewing at Summit, aiming to create a unique beer perfect for drinking in (FINALLY) warmer weather, and of course, with their legendary pizza.
Cracking Wit is of course a witbier, brewed with coriander and Equinox hops. Instead of orange peel, the team decided to use lemon peel to brighten up the citrusy pop of Cracking Wit.
Want to try Old Chicago/Summit Cracking Wit? While Old Chicago has 100 taprooms around the United States, only a lucky 47 will get the draft only offering. If you are one of the lucky 47 Old Chicago locations, Cracking Wit hits taps starting May 20th.  The beer is truly a unique offering, and once it's gone, it's gone.
Check out the gallery below of scenes of the brew day, and a list of the locations to get Old Chicago/Summit Cracking Wit.
Style: Witbier (w/ Coriander, Lemon Peel)
Availability: Draft Only
States: Iowa, Illinois, Kansas, Michigan, Missouri, North Dakota, Nebraska, South Dakota, Wisconsin, and of course, Minnesota.
Release: 5/20/15
5% ABV, 32 IBUs