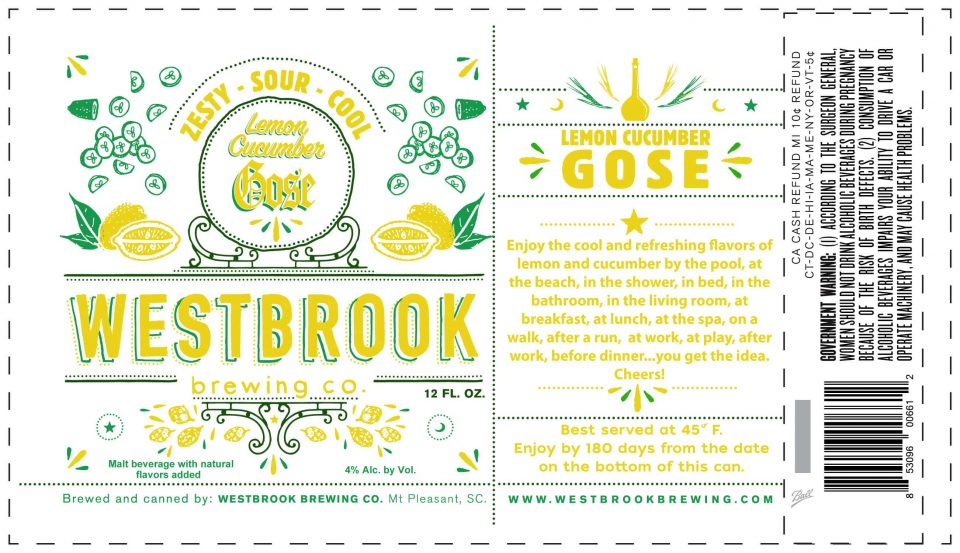 Westbrook Lemon Cucumber Gose is now available in cans for summer 2018.  
The Mount Pleasant, South Carolina based brewery's base Gose might be one of the most popular of the style in the southeast. It was first released in 2012, and once it was canned, really flew off the shelves.
That popular release gave rise to a new variant – Key Lime Pie Gose, inspired by the dessert.
Westbrook Lemon Cucumber Gose cans are now out in the wild, a beer that just screams warmer weather. Expect a tart gose with hints of lemon and cucumber, in a 12-ounce, 4% alcohol by volume package. This beer has already been available on draft in the past.
Enjoy the cool and refreshing flavors of lemon and cucumber by the pool, as the beach, in the shower, in bed, in the bathroom, in the living room, at breakfast, at lunch, at the spa, on a walk, after a run… you get the idea.
Westbrook Lemon Cucumber Gose is now on shelves throughout the brewery's distribution network. 
Style: Gose (w/ Lemons. Cucumber. Sea Salt.)
Availability: 12oz Cans, Draft.
Debut: Late June 2018
4% ABV