Triple C Brewing Co
Charlotte, North Carolina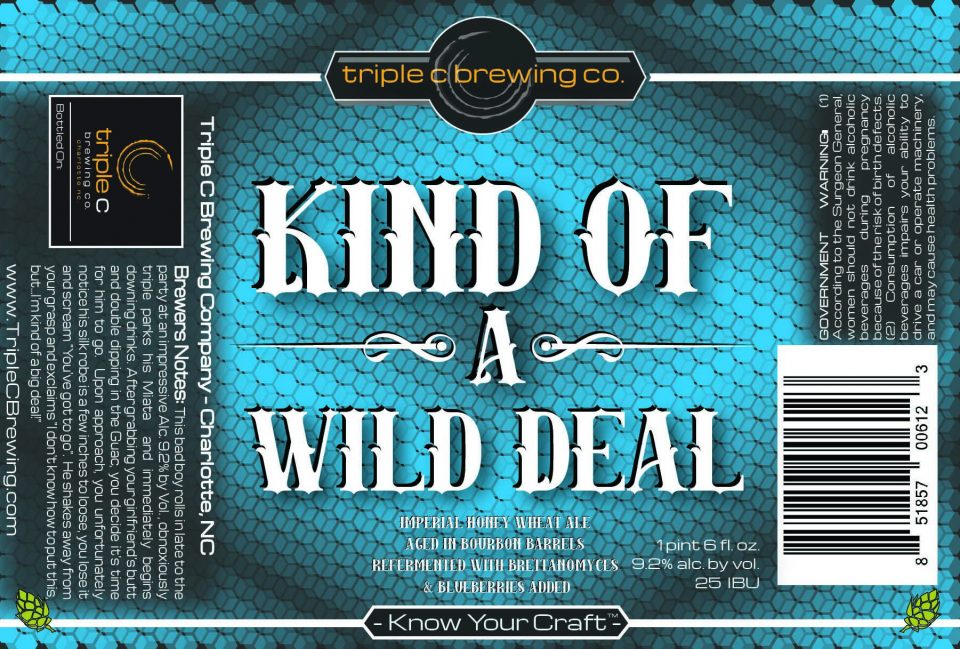 Triple C Kind of a Wild Deal is the Charlotte, North Carolina based brewery's first bottled wild ale.
The base beer for Triple C Kind of a Wild Deal is an imperial honey wheat ale, that was aged in bourbon barrels. Later in the process, the barrels were pitched with Brettanomyces Bruxelles yeast, plus a healthy dose of blueberries.
But wait – there's more. There are actually three other bourbon barrel variations of the beer coming, including Ginger Boysenberry, Blood Orange and Strawberry.  All three will see limited distribution.
Not done yet. Triple C is doing yet another variation in rum barrels with mango.
This bad boy rolls in late to the party at an impressive 9.2% ABV, obnoxiously triple parks his Miata, and immediately begins downing drinks. After grabbing your girlfriend's butt and double dipping the guac, you decide it's time for him to go. Upon approach, you unfortunately notice his silk robe is a few inches too loose, you lose it and scream "You've got to go". He shakes away from your grasp and exclaims "I don't know how to put this, but… I'm kind of a big deal!"
Triple C Kind of a Wild Deal will be a 22 ounce bottle offering in late July, 2016.
Style: American Wild Ale (w/ Blueberries. Barrel Aged. Bourbon.)
Availability: 22oz Bottles, Draft. Limited Release.
Debut: Late July, 2016
9.2% ABV