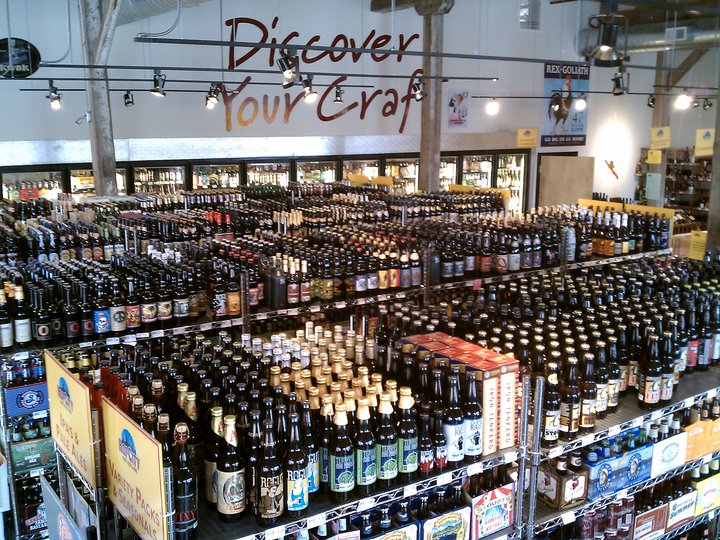 Do you need any proof that Alabama legislature is a backwards thinking? Read on.
My good friend Kraig Torres founded Hop City a few years ago in Atlanta, Georgia. The store sells 1,800+ beers, wine, and homebrewing supplies. Not to mention a 60+ growler station. Hop City is ranked among the best beer stores on planet earth on RateBeer.com Building upon his great success, Kraig decided to open a second location in Birmingham, Alabama.  Recent law changes make Birmingham a great place for a second Hop City.
Kraig has received all the necessary permits to open except for one – the liquor license from the Alabama Beverage Commission. Kraig applied for this license, and with it, provided a floor plan.  In the floor plan, he included an area for home brewing supplies. Home brewing is illegal in Alabama, but selling the ingredients is not. Kraig and his lawyer have done extensive diligence on the matter.
Yesterday (Thursday), ARMED ABC agents raided Hop City Birmingham, and confiscated books on home brewing, grain, wort chillers, and more. The agents threatened to arrest his store manager because he harbored materials used to make beer.  The ABC Agents loaded up a van with $7,000 of Kraig's inventory, stating they would be back the next day for the rest.  Every single grain, hop, and carboy has to be out of the Hop City Birmingham location before a license will be granted.
Kraig tells me that his opening will now be delayed, until his license can be granted. "I'm being held hostage by the ABC board."
Sound off. What are your thoughts on armed men confiscating books on brewing? Bagging hops and grain like it's cocaine?
UPDATE 9/22/12. 9 AM: The agents were armed. Whether the guns were drawn, or pointed at employees is up for contention.
Ed. Note: Pic above is one BSJ took at the Atlanta Hop City location.