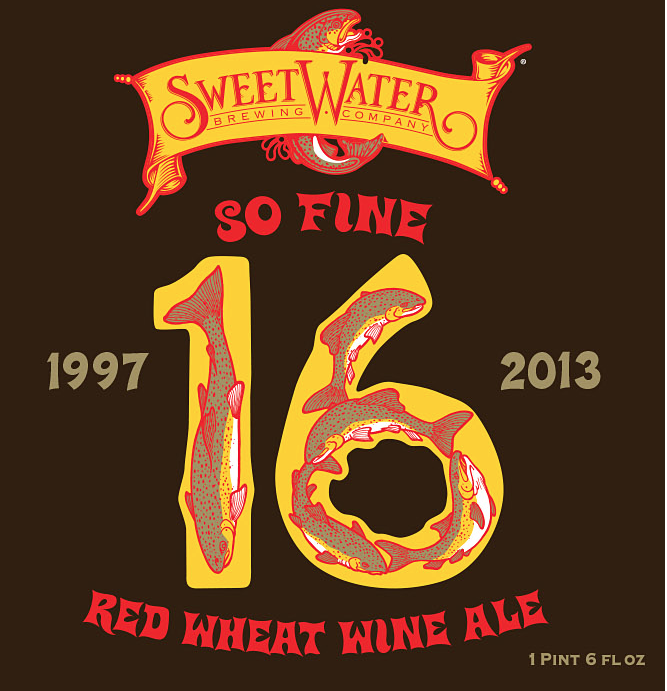 The donger need food. And beer. SweetWater Brewing (Atlanta, GA) will through down with a hella radical Sweet 16 Party this Sunday.  16 years to the date this heady folks opened. Above is your official reveal of the 16th Anniversary Ale. Ask your parents if you can stay out past curfew. The style this year is a red wheat wine. Draft debuts on Sunday, bottles after your hangover subsides.
 All growns up for now, or at least in our minds we are. Hair in new spots, lawn jobs at school, proficient in poaching 2nd story windows, and most importantly, we got a license to ride. Speaking of the ride – the last sixteen years have been a blur, but a very good blur – like driving 140 mph and trying to focus on a single tree in the forest. Yap – blumrr. All along not forgetting who we are, where we came from, and where we're going! The speedometer ain't pegged, cause it says 180!
For our super heady 16 year anni beer we stepped on the gas and headed down the road less traveled! Our B-day present to ourselves is a Racy Red Wheat Wine Ale Racy Red Wheat Wine Ale Racy Red Wheat Wine Ale Racy Red Wheat Wine Ale. Sucked The SSAB "not a SAAB" rips down the road at Alc.11% by Vol., fueled by a 45% wheat bomb with an afterburner hop shot of Amarillo, Willamette, Nelson Sauvin, and US Goldings that pushes this baby to the limit of sensory overload.
Get in. Sit down. Hold on. Shut up. A little older and a little less wise, even better looking (after 10 beers) and yes, still acting like 16 year olds.
Your parents out of town?
Style: Wheatwine
Availability: Draft, 22oz bottles
Arrival: 2/17/13
11% ABV
Read more: Press Release, Dank Tank Series