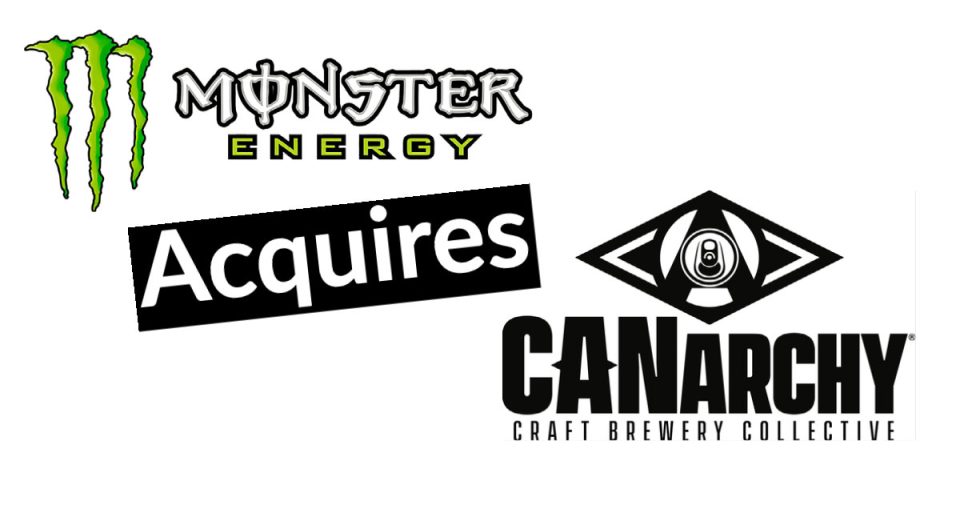 If you think the beer industry has cycled through every weird style trend or odd business acquisition, think again. Monster Beverage Corp, makers of Monster Energy Drinks has acquired CANarchy, the craft beer collective. CANarchy includes Oskar Blues, Cigar City Brewing, Perrin Brewing, Deep Ellum, and Squatters and Wasatch Brewing.
It had been heavily rumored that Monster Beverage had intended to enter the alcoholic beverage industry as early as pre-pandemic 2019.
The $330 million all-cash deal sees Monster gaining the 6th largest craft brewing company in the United States, with an annual beer volume of nearly 500,000 barrels. In addition, the beverage company gains instant access to all brewery infrastructure, employee expertise, and distribution channels.
In a press release, vice chairman and co-CEO Hilton Schlosberg of Monster stated, "The acquisition will provide us with a fully in-place infrastructure, including people, distribution, and licenses, along with alcoholic beverage development expertise and manufacturing capabilities in this industry."
In 2020 it was also rumored that Monster wanted to make their mark in the hard seltzer market, competing with Coca-Cola's Topo Chico, and Pepsi's Hard Mtn Dew, a collaboration with Boston Beer that debuts in the spring. Additionally, Monster was in talks with Constellation about a potential merger as well last year.
With the purchase of CANarchy, Monster Beverage picks up nationally distributed Wild Basin Hard Seltzer, Cigar City Limeade Seltzer, Ellum Ranch Hard Seltzer, and Rewired Hard Seltzer by Perrin Brewing.
Monster plans to roll out new beverages later this year, testing them regionally before ramping up to national distribution.
CANarchy will continue to operate independently of Monster Beverage Corp.
UPDATE: The Brewer's Association, the not-for-profit trade organization representing the craft brewing industry, has issued a statement surrounding the purchase of CANarchy this afternoon.
The Brewers Association (BA) is aware of CANarchy Craft Brewery Collective's pending sale to Monster Beverage. Based on our current information, CANarchy meets the Brewers Association's craft brewer definition under the ownership of Monster Energy as presently constituted. In this instance, Monster is not a beverage alcohol industry member, so this new ownership structure does not affect CANarchy's independence in regard to the beverage alcohol industry. The Brewers Association defines small and independent craft brewers as:
Small: Annual production of 6 million barrels of beer or less (approximately 3 percent of U.S. annual sales). Beer production is attributed to a brewer according to rules of alternating proprietorships.
Independent: Less than 25 percent of the craft brewery is owned or controlled (or equivalent economic interest) by a beverage alcohol industry member that is not itself a craft brewer.

Brewer: Has a TTB Brewer's Notice and makes beer.