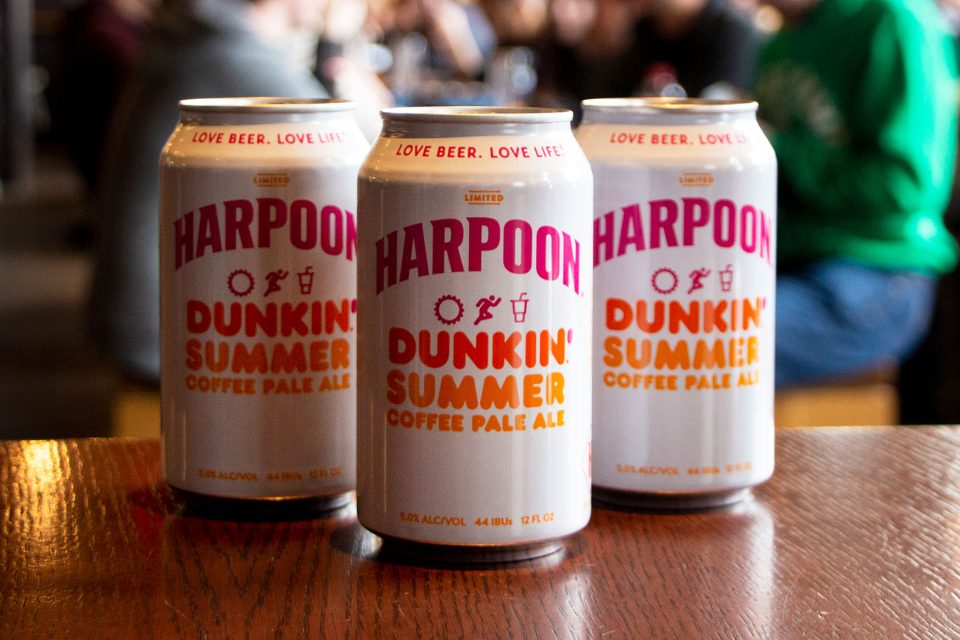 Harpoon Dunk Summer Coffee Pale Ale debuts this month, the second collaboration with Dunkin' Donuts.
In fall of 2018, the duo debuted Harpoon Dunkin' Coffee Porter. According to the brewery, the beer was a big success among both Harpoon and Dunkin' fans. As the weather gets warmer, pale ales become even more popular. The coffee summer pale ale is born.
"We ended last year's baseball season with the intro of Harpoon Dunkin' Coffee Porter, and we're excited to begin this season with the release of our Summer Coffee Pale Ale. Most importantly, it's a delicious beer – hoppy and vibrant with a nice coffee character. We're thrilled to partner with an icon like Dunkin' again." – Dan Kenary, Co-Founder & CEO
Harpoon Dunkin' Summer Coffee Pale Ale is available starting this month, in 12-ounce cans and draft.
Style: Pale Ale (w/ Coffee.)
Availability: 12oz Cans, Draft. Seasonal Release.
Debut: April 2019
5% ABV
Image: Harpoon Brewery