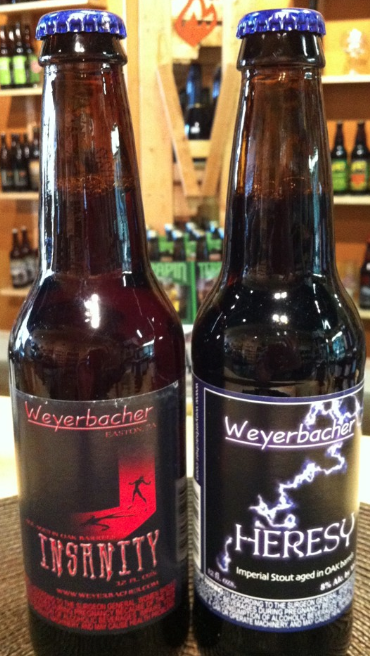 2 popular releases from Weyerbacher Brewing (Easton, PA) have returned – Heresy & Insanity.  Weyerbacher does barrel aging very well, as evidenced by these amazing beers.
Insanity
Is made by aging our perfectly balanced Blithering Idiot Barleywine in oak bourbon casks.  This incredible combination creates a melange of flavors from rich malts, raisons, and dates to oak, vanilla, and bourbon.
Style: Barleywine (Barrel aged)
11% ABV
Heresy
This is an incredibly intriguing ale is made by aging our Old Heathen Imperial Stout in oak barrels that were used for making fine Kentucky bourbon! The result is an extraordinary, dark, and mysterious stout whose very essence has been enhanced. The aroma is filled with vanilla, cocoa, and roasted coffee beans.
Style: Russian Imperial Stout, barrel aged.
8% ABV
Availability: Both Heresy & Insanity are seasonally released in February
Pic Thx – @AleYeahBeer