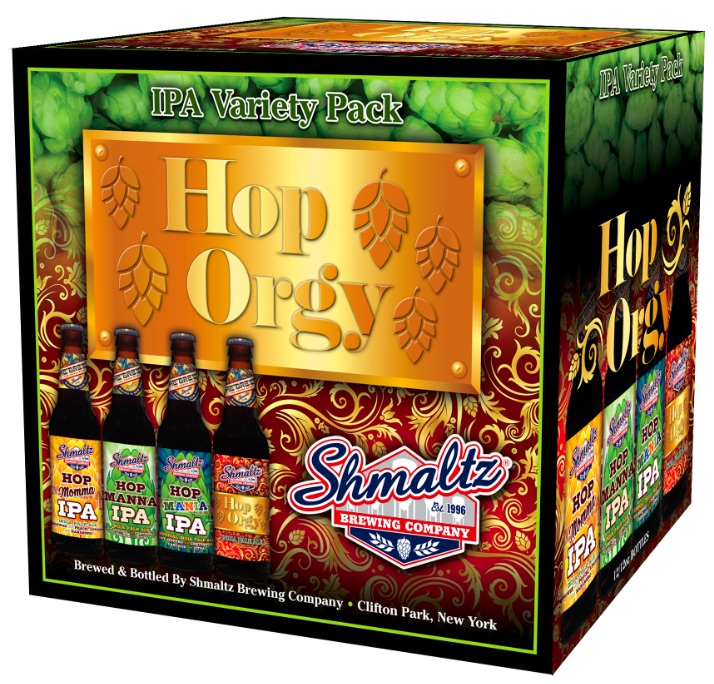 Can't commit to just one hop? Find yourself enjoying multiple hops at one time? Shmaltz Hop Orgy might be where you need to be.
The new 12 pack case features four different hop forward offerings for you to indulge in. As Shmaltz puts in: "Because 3-Ways are for wine drinkers". Each case features three bottles each of:
Hop Orgy (6% ABV): A copper/gold light-bodied IPA, bursting with luscious, aromatic fruit notes of the tropics and citrus notes accented by pine and cedar characters.
Hop Manna (65 IBUs, 6.8% ABV): Shmaltz's flagship, World Beer Championship Gold Medal winning IPA. Dry-hopped with Centennial, Cascade and Citra for a fruity aroma with lively floral and citrus flavors. Shmaltz's first-ever single IPA, Hop MANNA® offers session after session of hop nourishment from the Shmaltz Tribe to yours. Hop MANNA® is now available in new 4-packs, in addition to 22-ounce bottles, draft, and nestled inside the Hop Orgyô variety pack.
Hop Momma (5.8% ABV): A session-ish IPA brewed with peach, apricot and Habanero pepper. Fruity hops accentuate the added flavors, making this Momma fresh and juicy with a subtle pepper kick.
Hop Mania Imperial IPA (7.8% ABV): An Imperial IPA that's dry-hopped with more Centennial, Cascade and Citra hops. Adding manic amounts of hops and playing up the malts throughout the brewing process gives Hop Mania Imperial IPA® a complex character and heady aroma. While the 7.8% ABV gives this beer strength, the mouthfeel is deceptively smooth. Hopheads rejoice — Manna has gone Mania!
Look for the 12 pack to hit shelves in Shmaltz Brewing's 35 state distribution.
You decide the appropriate level of eye contact.