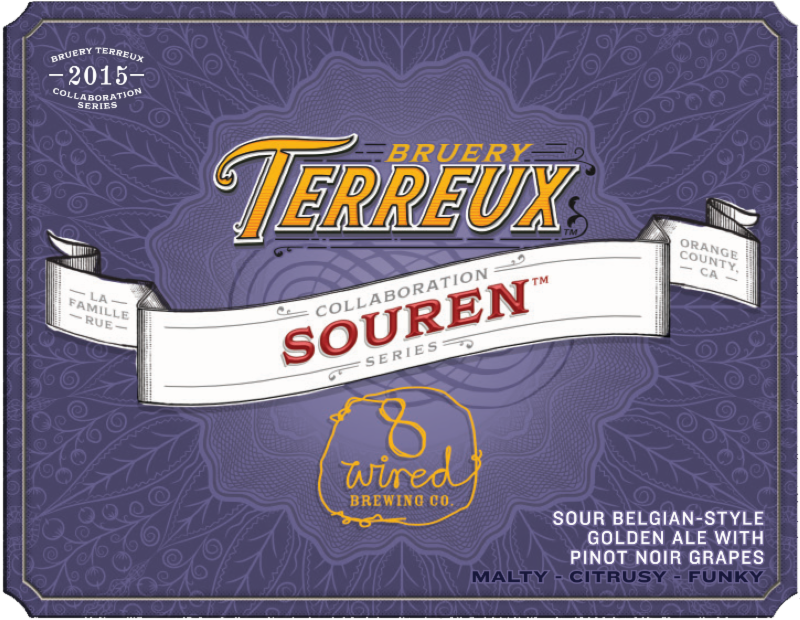 Bruery Terreux Souren, a new collaboration with New Zealand's 8 Wired Brewing launches August 5th.
Soren Erikson of 8 Wired made a pit stop in The Bruery's home of Placentia, creating a "California style" sour beer. The base is a Belgian-style golden ale, pinot noir grapes. Bruery Terreux Souren eventually came to rest in oak barrels.
Souren is named for our pal Søren who runs the show down in the far-off land of New Zealand at 8 Wired Brewery. Taking the long way home after a trip to the States, Søren and his team stopped off in Placentia for a day of brewing, and we created a very California-style sour beer together. Starting with a Belgian-style golden ale base, Pinot Noir grapes were added and the beer was sent to rest in barrels at Bruery Terreux. Over the year, the complexities grew and this grapey, funky, spicy beer was born. Half Kiwi, half American, this one has a rather handsome accent.
Bruery Terreux Souren is available in 750ml bottles. First released to Hoarders and Reserve Society members, then limited distribution.
Style: American Wild/Sour Ale (w/ Pinot Noir Grapes. Oak Aged.)
Availability: 750ml Bottles. Limited Release.
Launch: 8/5/15
?? ABV
8 Wired Brewing (Marlborough, New Zealand)  is shipping Batch 31 specifically for the United States.  It was known as Batch 18 in New Zealand, a celebration of their 18th Batch made 18 months into brewing.  It was an instant hit, but not enough was produced to make it stateside.  Enter 31.
Label:
Last year, to celebrate both our 18th batch of beer and our 18th month anniversary, we brewed a big ass stout that turned a lot of heads here in New Zealand.  Unfortunately, this beer wasn't brewed in sufficient volume to supply the American market.   So, we went to work again.  The beer you're now holding is inspired by batch 18, and its brewed solely for Shelton Brothers and all our American friends.
Starting out with an already weighty Imperial Stout, we add a hefty dose of Jaggery Coffee.  We ferment with two different strains of ale yeast, and then age the beer in American oak barrels.  After six months on the oak, the beer from those barrels is blended, bottled and shipped to the USA for your enjoyment.
Batch 31 is an intense experience.  Enjoy with a loved one.
Style: Imperial Stout (oak aged)
Hops: Southern Cross, Centennial, Chinook
Malts: Pale, Chocolate, Carafa, Smoked, Crystal, Special B, Roasted Barley
Yeast: Wyeast 1272, 1968
Availability:  16.9oz bottles
11% ABV
Brewed on 12/15/10
Barreled on: 1/10/11
Bottled on: 4/18/11
Best before: 12/18