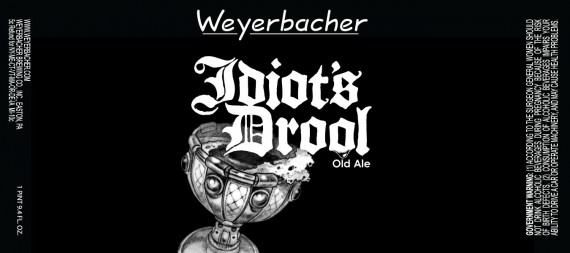 On Thursday 11/17, Weyerbacher Brewing releases Idiot's Drool, a bourbon barrel aged edition of Blithering Idiot that has spent 4.5 years on oak. Yep, nearly half a decade.
Head Brewer Chris Wilson says, "It's a full-bodied, deep burgundy ale with an incredibly complex character. Extended aging has imbued this beer with notes of vanilla, oak, leather and sweet sherry. A mild acidity and subtle carbonation rounds out the palate. Truly fantastic!"
The event will begin at 5pm, with samples of QUAD, Blithering Idiot, Double Simcoe IPA and Merry Monks (both in 750ml bottles), Winter Ale, Old Heathen, Hops Infusion and Verboten, and Tango the next release in the Brewers' Select Series.
The event details per Weyerbacher:
Hours – Doors are open from 5pm to 8pm.  Expect a line.  We have only one register.  We'll do our best.  Grumpy people will not be allowed to have Idiot's Drool.  Instead, they will be shackled and forced to clean the parking lot while the others point and laugh.  There may be paint involved, too.
Bottle Limits and Laws — We are a production brewery only which means we can only sell you full cases (twenty-four 12 oz bottles or twelve 750ml bottles).   It's a law thing, not ourpolicy.  That said, because of the incredibly small batch of beer for which we are having this event, we have decided to limit each person to SIX (6) bottles of Idiot's Drool.  Yes, we do realize that a case of 750s is twelve (12) bottles.  No, we're not trying to do some kind of crazy "force 'em to buy more other stuff, too" nonsense; It's purely about the math.  We just don't have many bottles and we want to make sure you all get a chance to have some without having to sell tickets and stamp hands and check your DNA and whatnot.  We will have Merry Monks and Double Simcoe IPA available in 750ml bottles to round out your full case of 12 bottles…   oh…    yeah….. and we'll have RAPTURE available, too!  You can always ask around and find a buddy to split a full case with you.
Distribution — This is an EXTREMELY limited bottling run.  There are no cases going to any distributors anywhere at all.  None.  Zero.  If you're getting this beer, you're getting it here.  We do NOT expect the supply to last the night.  If each person takes their limit of 6 bottles, we're only talking about 140 customers.
The Register — We're all about getting you access to what you want BUT we have to be mindful of the laws.  If two people want to split a full case of rapture (6 bottles each from a 12 bottle case), please settle your finances between each other before OR after you go to the register.  Please DO NOT ask our cashier to split payment on two different cards.  We're selling a case to one person… start to finish…  Capiche!?!? Visa, Master Card, Amex and when it goes thru, Discover.  We take cold hard cash, too.  Sorry, no checks!
Pricing — Idiot's Drool is $23.00 a bottle.  Rapture is $17.00 a bottle.  Double Simcoe IPA and Merry Monks 750 ml bottles are $6.50 each.  TWELVE BOTTLES TO A CASE.
So what else do you have? We will also have our full lineup of year round and current seasonal beers in 12 oz bottles available to mix into custom variety packs.  As if this was not enough, we will also be ready to sell you growlers of our available draft beer as well!