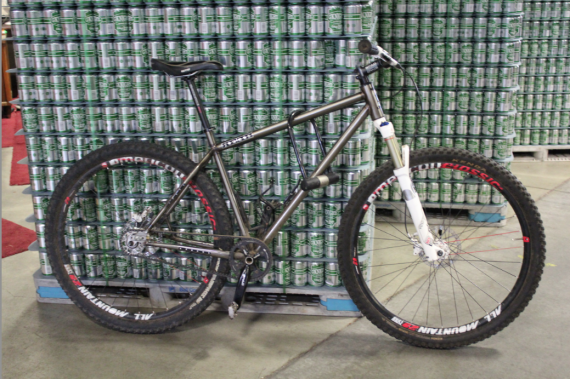 Oskar Blues out of Longmont, CO seems to have expanded outside of the realm of aluminum cans and created its own brand of bicycles called "Reeb" (spell it backwards… that's right, it spells beer!).  The first edition from the Reeb will be a single gear mountain bike that will go the rough Colorado terrain.  The frame for the Reeb will cost $1200, but if you want the fully awesomed edition, it's going to cost you between $3000 and $4000.  About 20 of the bikes have already been produced, most of which were bought by employees.  The bikes are single speed, rubber belt driven, and 100% handcrafted.
The details the Reeb Mountain Bike:
Chad Melis, marketing director for Oskar Blues, said the company is manufacturing handmade, steel, single-speed, 29er hardtail mountain bikes using the Denver-based Gates' Carbon Drive system.
The Gates Carbon Drive system is a "belt"-driven bicycle drive that replaces a standard chain, according to the company. Compared with a normal chain that requires lubrication and maintenance, Gates said its belt drive is maintenance free.
Above is a pic of the soon-to-be coveted Reeb at Oskar Blues in October.