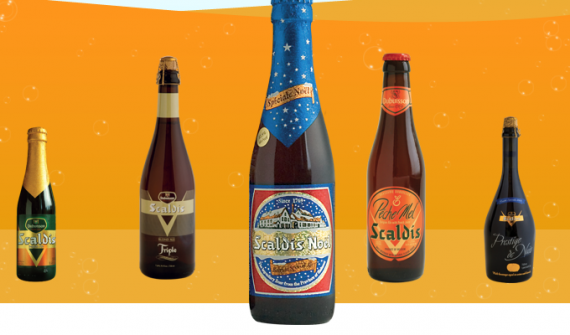 Vanberg & Dewulf has teamed up with Untappd, and various fine beer bars around the United States to have the "single largest one-day national celebration of Belgian beer culture held in the USA this millennium."
An estimated 350 bars, restaurants, and shops across America will feature Vanberg & DeWulf beers and raise a toast to the importer that has been singularly dedicated to building Belgian beer connoisseurship in the USA. To find the beers and the hosts for the events, people need only consult the Vanberg & DeWulf and Untappd sites.  Coast to Coast Toastâ"¢  Eventbrite page and check in with the beers on Untappd.
You need to be apart of Untappd for starters.  There have been more than 2 million "check-ins" in year one alone.  To earn the Belgian badge Untappers need to try at least one (1)  "related" beer and share it on Untappd. Starting November 15th and for a month, the Belgian badge can only be earned by "checking in" with Vanberg & DeWulf's beers. Aspiring badge-earners have the option to be entered into a drawing to win a trip for two to Belgium sponsored by The Belgian Tourist Office and Delta Airlines.
The Coast to Coast Toast â"¢ is at once an anniversary party and a salute to the people and places that have done so much to build today's vibrant US beer culture. Participants span two generations of craft beer advocates — uniting pioneers like Lucky Baldwin's and Toronado (CA), Monk's, Eulogy and Tria (PA), Higgins and Belmont Station (Portland), Hopleaf, Map Room (IL), Winking Lizard (Ohio), BJ's (the West) and Flying Saucer  (6 states), Gingerman, DBA (NYC), and the Brickstore (GA) and more recently minted "Heroes of the Good Beer Movement" â"¢ like El Rey Burrito Lounge and J Clyde (Alabama), The Publican and Bluebird (Chicago), Church Key (Washington, D.C.) , Capital Bar and Grill (Arkansas), Jimmy's 43,  Rattle N Hum, Vandaag, and Blue Monk (NY), The Fred (GA), and Redlight Redlight (Florida).
Retailers all around the country — from Tully's in Wells, Maine to Whole Foods on the Bowery in NYC, from Binny's in Chicago to Wine Thief and Ale Jail in St Paul, MN — are taking part in the party.
Beers Tapping Today Include (but not limited to) :
If you aren't on Untappd, sign up now.  Finish up work early and head to a party near you.