Topic Archives:
Swamphead Spasmodic Releases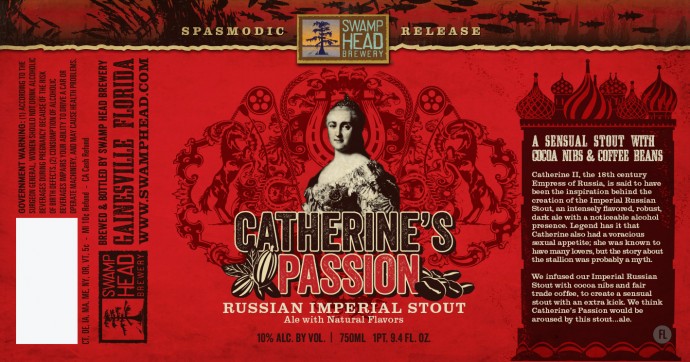 Swamp Head Brewery (Gainesville, FL) has taken a little Russian inspiration for this upcoming imperial stout. 18th Century pretty lady Catherine II is said to have been the muse for the invention of the Russian Imperial Stout, due to her love of deep, roasty beers. She apparently was quite sexually hungry too. Are imperial stouts an aphrodisiac? I wonder if she has a 21st century sister. I'd love to meet her. Catherine's Passion has fair trade coffee and cocoa nibs added for extra sexiness.
Catherine II, the 18th century Empress of Russia, is said to have been the Inspiration behind the creation of the Imperial Russian – Stout, an intensely flavored, robust, dark ale with a noticeable alcohol – presence. Legend has it that Catherine also had a voracious sexual appetite; she was known to have many lovers, but the story about the stallion was probably a myth. We infused our Imperial Russian Stout with cocoa nibs and fair trade coffee, to create a sensual stout with an extra kick. We think Catherine's Passion would be aroused by this stout…ale.
Style: Russian Imperial Stout (w/ Coffee, Cocoa Nibs)
Availability: 750 ml bottles
Arrival: TBA
10% ABV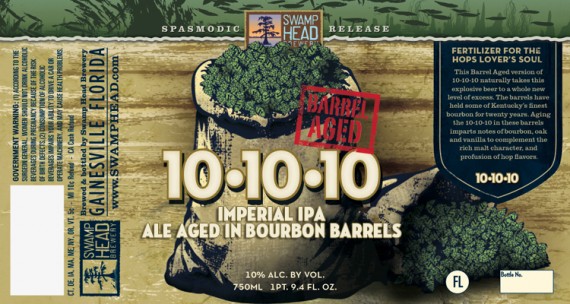 Swamp Head calls 10-10-10 Imperial IPA"fertilizer for the hop lover's soul." So named for 10 hop additions, 10% ABV, 110 IBUs. The brewery took the hop bomb and has been aging it in Pappy Van Winkle barrels.
This Barrel Aged version of 10-10-10 naturally takes this explosive beer to a whole new level of excess. The barrels have held some of Kentucky's finest bourbon for twenty years. Aging the 10-10-10 in these barrels imparts notes of bourbon, oak and vanilla to compliment the rich malt character and profusion of hop flavors.
Style: Imperial IPA (Barrel Aged)
Availability: 750ml bottles
Arrival: Late Summer, 2012
10% ABV