Topic Archives:
Stone 20th Anniversary Encore Series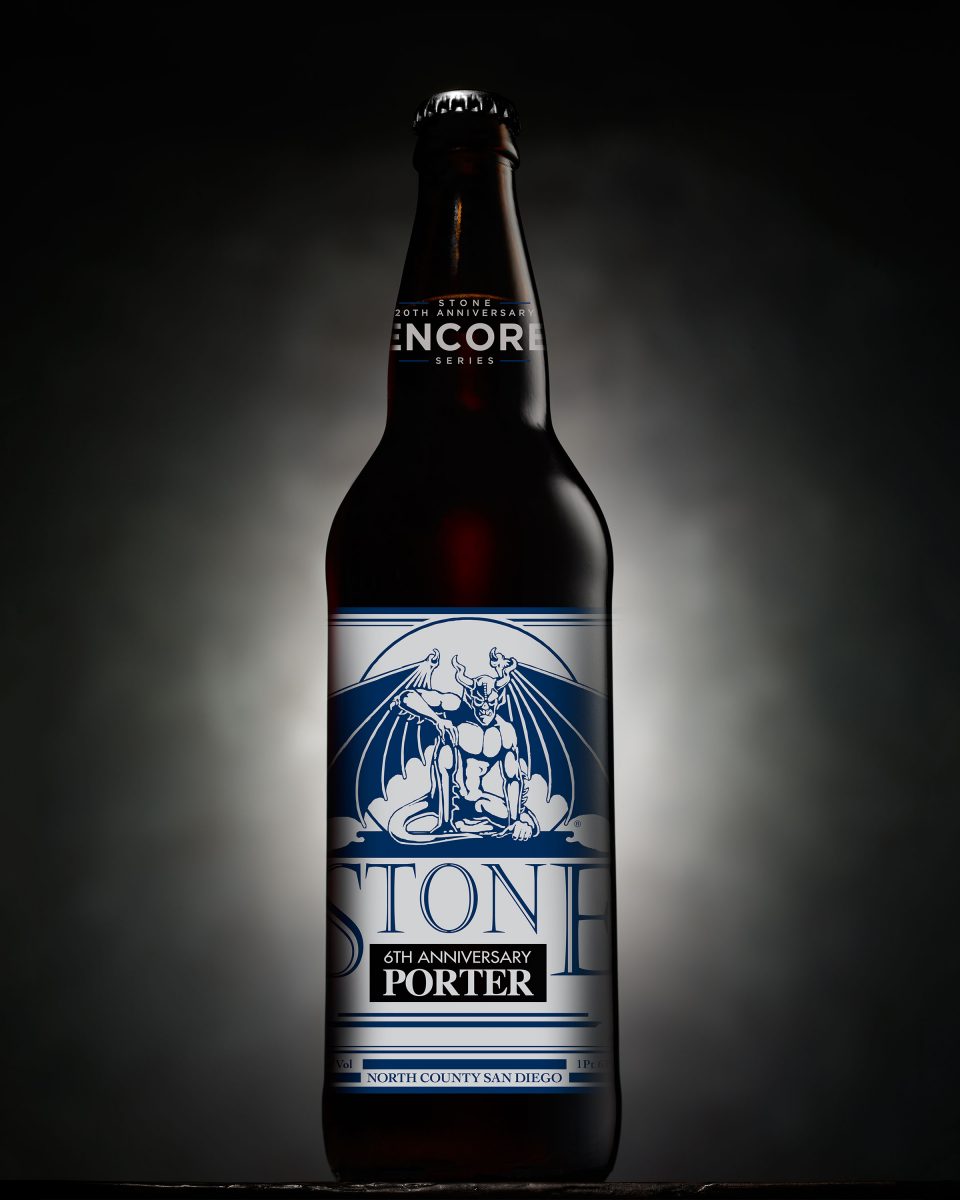 Stone 6th Anniversary Porter has officially joined the brewery's 20th Anniversary Encore Series.
Back in 2002, the Stone celebrated their 6th anniversary, not with an India pale ale, but with a porter. In this case, Stone Smoked Porter the brewery kicked up "three notches" with the addition of more hops and more malt. The beer was then aged on French and American oak. The result was a big, bold beer, that was rather scare at the time. In 2016, there will be a little more to go around.
There's a point in even our brewing lives when we came to realize that no matter how much we wanted to, we couldn't realistically add anymore hops to our recipe. While our hop threshold is greater than most, it happened on the onset of our 6th Anniversary. Up until then, all of our anniversary beers had been increasingly amped up versions of our 1st Anniversary IPA. Which all of you know as simply Stone IPA. Instead of completely abandoning our set-in-stone stance on making big bold beers, we continued with this theme of making Increasingly more intense versions of our existing line of beers. This time we turned our attention to Stone Smoked Porter -a beer we had in our lineup since our first year. When it came to modifying our recipe. we went against the "less is more" approach and cranked it up three notches. This entailed adding more malt and more hops and conditioning it on French and American oak to add notes of toffee, cherries, dried berries and vanilla. Such noble yet gutsy experimentation doesn't go without some mishap and at one point this smoky dark·as·night wonder was shooting out of the fermenter like a fire hose because of an unsuccessful attempt to clear a valve jammed with oak chips. Luckily the beer's fate didn't entirely empty down the drain, because the Stone 6th Anniversary Porter proved to fans, with its distinctive smokiness and chocolaty, coffee·like complexity, that we can brew a remarkable amount more than just awesome IPAs.
Stone 6th Anniversary Porter is a 22 ounce bottle and draft offering. Recent releases in the Encore Series include 12th Anniversary Bitter Chocolate Oatmeal Stout, and Vertical Epic 08.08.08.
Style: Smoked Porter (Oak Aged)
Hops: Tomahawk
Availability: 22oz Bottles, Draft.
Distribution: AK, AL, AZ, CA, CO, CT, DC, DE, FL, GA, HI, IA, ID, IL, IN, KS, KY, LA, MA, MD, ME, MI, MN, MO, MT, NC, NE, NH, NJ, NM, NV, NY, OH, OR, PA, RI, SC, TN, TX, VA, VT, WA and Puerto Rico
International Distribution: Australia; Alberta and British Columbia, Canada; Germany; Hong Kong; Japan; Korea; Mexico; Panama; the Philippines; Singapore; Sweden; Thailand; United Kingdom
Release: Mid-April, 2016
8% ABV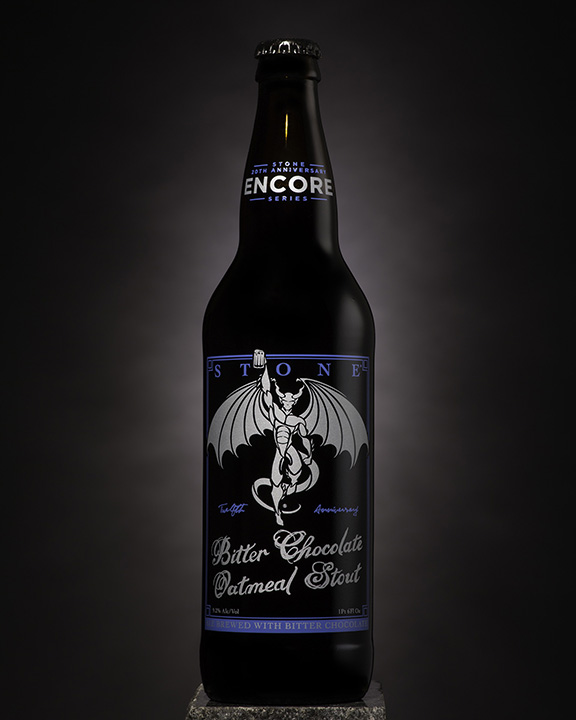 Stone 12th Anniversary Bitter Chocolate Oatmeal Stout is next to return to the brewery's 20th Anniversary Encore Series.
2016 marks the brewery's 20th year of brewing, and to celebrate the double decade mark, Stone is bring back a few previous releases. First up was Stone Vertical Epic 08.08.08.08 that hit shelves last September.
From their 12th year comes Stone 12th Anniversary Bitter Chocolate Oatmeal Stout. In 2008, hops were in short supply. That constraint forced the brewers (who were used to making hop forward beers) to get creative. The result was 12th, a malt forward beer that features pure cacao added at the end of the boil.
Eight years later, Stone 12th Anniversary Bitter Chocolate Oatmeal Stout has been rebrewed to the exact specifications of the original recipe and features artwork evocative of the first time it hit store shelves. The onyx-colored, malt-forward stout offers a thick, rich, roasty mouthfeel and sensual chocolate flavors and aromatics.
Stone 12th Anniversary Bitter Chocolate Oatmeal Stout is available in 22 ounce bottles, and draft for a limited time.
Style: Imperial Stout (w/ Cacao Nibs)
Hops: Summit, Galena, Ahtanum, Willamette
Availability: 22oz Bottles, Draft.
Release: 1/25/16
9.2% ABV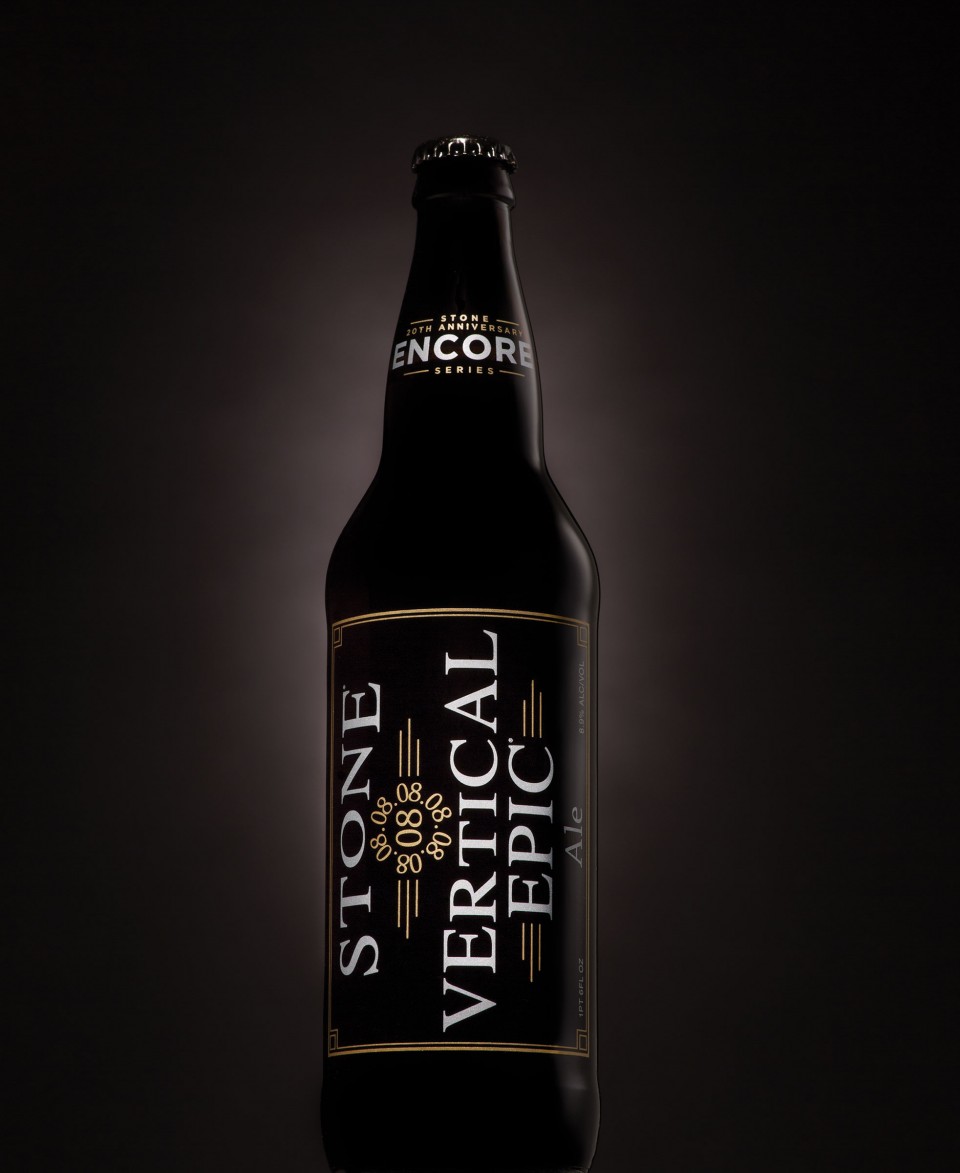 Stone 08.08.08 Vertical Epic Ale could see the light of day again soon. The Escondido, California brewery is celebrating the 20 year mark with 20th Anniversary Encore Series.
The Vertical Epic Series was an 11 beer series that ending in 2012. The entire series was meant to be cellared until 12.12.12, and drank shortly after. This month, Stone marks their 19th birthday with their usual festival, and Stone Thunderstruck IPA. Later this year,  an Encore Series will bring a host of throwback beers, including newly released (re-released) Stone Vertical Epic 08.08.08.
Stone chose to bring this beer back out of nostalgia for their "Summer of the Triple" which arose after an extensive trip through Belgium.
Ah, 2008, We remember it well. 'Twas a year of Belgophila for us… especially Stone Brewmasters Steve Wagner and Mitch Steele. That year, they embarked on a tour of Belgium, sampled numerous ales and became inspired by the beery country's overall magnificence. It's a big reason 2008's summer season came to be know as Stone "Summer of the Triple." Upon their return, they churned out AleSmith/Mikkeller/Stone Belgian Style Triple Ale and a batch of our special Sawyer's Triple (a charity beer benefitting Fight ALD, crafted in honor of our dear friend Sawyer Sherwood). Those ales were brewed in the style of Belgian triples, pale ales and IPAs. Beers that hand taken a cue from the U.S. craft brewing movement and inspired us to return. The 7th beer in the 11-beer Stone Vertical Epic Ale series was the result. Packed with floral, spicy essence from Belgian yeast plus plenty of hoppy New World character, it was impressive enough to pave the way for our West Coast/Belgian hybrid, Stone Cali-Belgiue IPA, which debuted during that Summer of the Triple and remains a staple in our portfolio to this day.
The Stone 20th Anniversary Encore Series has officially started, and runs through 2016. Stone Vertical Epic 08.08.08 is a draft, and 22 ounce bottle offering.
Style: Belgian IPA
Availability: 22oz Bottles, Draft.
Return: 9/21/15
8.6% ABV