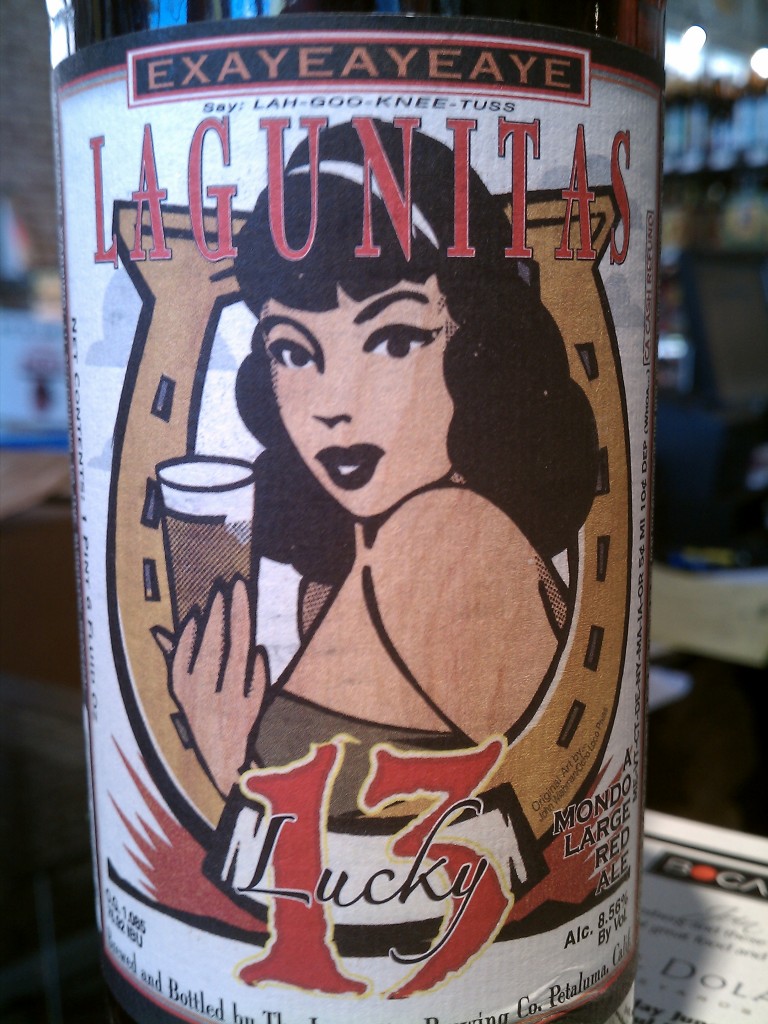 Lagunitas Brewing's 13th anniversary was a big hit when it was first brewed.  Now it is brewed once a year in June.  Lucky 13 is a red ale, with a big hop palette.
Ingredients –
Hops – Amarillo
Malts – Dark malts, Marris Otter, Munich
From the label –
"From the first day of the first mash of the first recipe in the first space to this oasis 13 years on the road; We have worked hard to walk in the footsteps of our hero brewers. The Esteemed brewer of California's best Pale Ale, the Noble Brewer of the planet's only legal Steam Beer, and Oregon's Rebel Brewer from Newport. Thirteen years down the road, we have found our own voice as brewers but our admiration for the Great Ones has not dimmed one bit. If we walked well down the hero's path ourselves, perhaps we too have been an inspiration for others. Beer is a Bronze Age business and we feel honored to have left our footprints on its path into history, at the same time leaving our flavors on your buds. Thanks for your trust over the years and we hope you enjoy this specially brewed Hi-Gravity Auburn offering. Beer Speaks. People Mumble!"
Taste Expectations – Lots of hops and malts in 13.  You'll find the malts caramel and sweet, and the hops piney with  hint of citrus.  A little biscuit malt, and alcohol present too.
Availability – 22oz Bombers.  Seasonally in June.
8.3% ABV