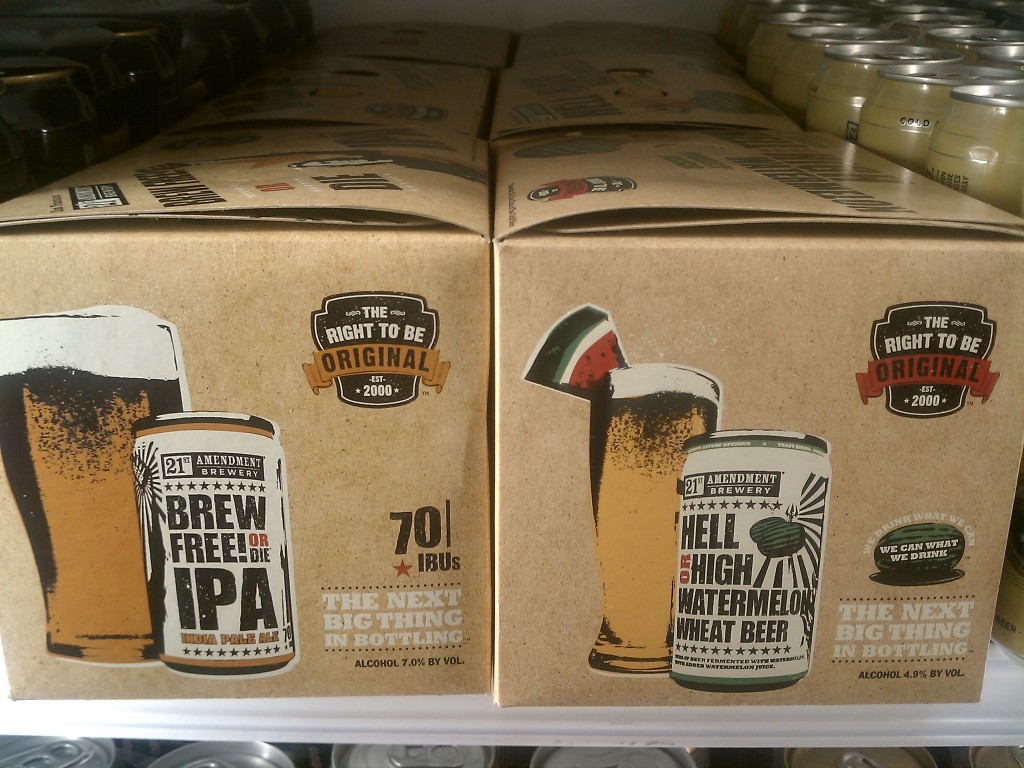 Everyone seems pretty excited that San Francisco brewer 21st Amendment is launching Georgia.  There have been some sightings of the cans (21st Amendment comes only in cans!!!) but today marks the full fledged launch.  Your favorite craft beer stores and bars will be receiving kegs today.
The 2 launch titles are –
Brew Free or Die IPA — IPA, 7% ABV.  West coast IPA brewed with Warrior hops, and finished with Columbus and Cascade.   Dry hopped with Amarillo, Ahtanum, Simcoe.  Malts include 2 Row Pale, and Imported Munich.  70 IBU's.  Best selling beer in the 21st Amendment Pub.
Hell or High Watermelon — Wheat beer, 4.9% ABV.  Wheat beer, with secondary fermentation with fresh watermelon.  Uses Magnum hops, and 2 Row Pale and American Wheat malts.  The watermelon flavor is solely pureed watermelon. No extracts or syrups.  Yeast is a top fermenting ale yeast.  17 IBU's
To celebrate this long awaited launch, (rumors of this release go back at least 6 months..)  the brewers of 21st Amendment Nico Freccia and Shaun O'Sullivan will host a few launch parties around Atlanta.
Here's your guide –
June 26th
Young Augustine's
327 MEMORIAL DR SE
ATLANTA, GA 30312-2244
June 26th 7pm Meet and Greet with Cheese and food pairings
June 27th
The Porter Beer Bar
1156 EUCLID AVE NE
ATLANTA, GA 30307
June 27th 7pm Meet and Greet with Cheese and food pairings
June 28th
Taco Mac Metropolis
933 PEACHTREE ST NE
ATLANTA, GA 30309
June 28 Meet and greet 7pm
June 29th
Cypress Street Pint & Plate
817 WEST PEACHTREE ST NW STE E125
ATLANTA, GA 30308-1150
Come meet these brewers and celebrate their launch in Georgia!!!   Updates on who receives the beers coming ASAP! Follow @ATLBeerMaster on Twitter!