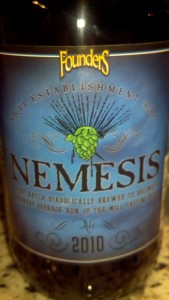 Leon's Full Service is tearing it up.  In addition to Southern Tier's Choklat, Leon's has Founder's 2010 pouring.
Style: American Barleywine
Taste Expectations: Smell is alcohol and hops.  Taste is complex, while not being heavy.  The alcohol shines for sure, but not in an overwheming way.  Caramel malts, chocolate, even coffee have been used to describe this.  Try it and sort it out!
Availability: 12 oz/4 packs.  No draft.  Est. retail — 17.99
12% ABV