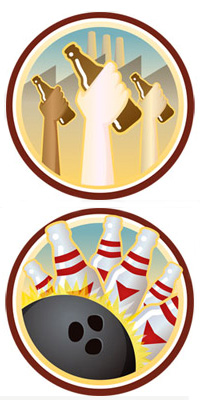 More badges on Untappd.  Making drinking beer even more fun.  From Untappd Blog:
We're hard at work here at Untappd HQ, but amongst all of the feature creation and improvements, we still like to have fun and keep things interesting. It's important to use to keep you on your toes and what better way than to introduce 10 new challenges! Yes, you read that right, 10 brand new badges ready for you to earn!
God Save the Queen
Rising Sun
Down Under
Brew Traveler
Trappist Travesty
Find the Source
Brewery Loyalist
Your Wish Came True
Bowl-A-Rama
Playing the Field
We aren't going to give them away as that would ruin the fun, so be sure to check out the hints! All of these awesome badges were illustrated by our friends atBlueSpark Studios.
Additionally, we recently ran a user poll and gathered quite a bit of excellent feedback. One of the most noted things was a disliking of our 15 minute cool down rule between check-ins. While we can't completely do away with this rule, we have listened and lowered it. You will now only need to wait 10 minutes between brews! This should make it more convenient for our quicker drinkers to log their beers, but as always, please be sure to drink responsibly.