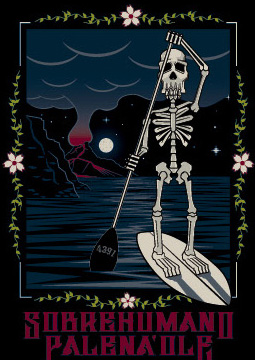 Maui Brewing Co (Lahaina, Maui, HI)  has just announced a new collaboration brew with Jolly Pumpkin Artisan Ales (Dexter, MI).  Sobrehumano Palena 'ole will be the brewery's first collaboration in a can.  The name is a blended Spanish-Hawaiian term for "superhuman."
What's the beer?
Sobrehumano Palena 'ole is a red ale brewed with liliko'i (passionfruit) and cherries.   Each brewery will add its own unique spin – as Maui will ferment normally (arriving in cans), and Jolly Pumpkin will make it  a barrel aged sour (in bottles).
Where?
Maui will produce 4,000 cases & 80 barrels, distributed in all 11 states in which the brewery currently ships.   Ed. Note: Jolly Pumpkin most likely will not know yield until barrel blending time.
How Did These Two Find Each Other?
 "John and Garrett were planning their collaborations for 2012 and because John is from Michigan and coming home for the holidays my name came up.  This whole idea came together really fast — just weeks before John's visit.  It's been a very challenging blend to develop — I'm super-excited about it and a little intimidated at the same time. I've been enchanted by Hawaii for years and it's been great to work with everyone at MBC and get to know them.  I always enjoy collaborations but this one is something really special."
Style: Red Ale (Maui) / Ambiguous Style (Jolly Pumpkin)  (w/ Cherries, Passionfruit)
Availability: 12 oz cans, Bottle size TBA
Arrival: June, 2012 (SAVOR)
?? ABV