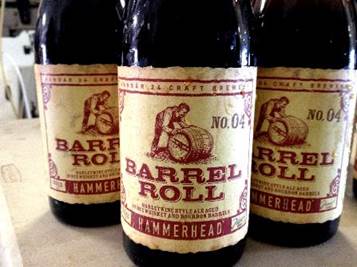 A new Barrel Roll springs forth today from Hangar 24 Craft Brewery (Redlands, CA). Hammerhead, an American-style barleywine (hoppier than the English versions) aged in rye whiskey and bourbon barrels.  Each release in the series is named for a plane aerobatic maneuver. A hammerhead is when you climb straight vertical and essentially stall the plane so it is sitting still in the air (nose up).
In the end, the pilot makes the plane to tip over like it is hinged on one of it's wingtips, and pointed straight down. (See image below.)
Spicy aromas spill from the glass: rich caramel, citrusy hops, bourbon and oak. Layered flavors of toffee, vanilla, brown sugar, spice and rye whiskey lead to a warm and slightly bitter finish. This is a strong ale, meant to be sipped, savored and enjoyed.
Style: Barleywine (Barrel Aged)
Availability: 750ml bottles, Limited Draft
13.8% ABV, 83 IBU