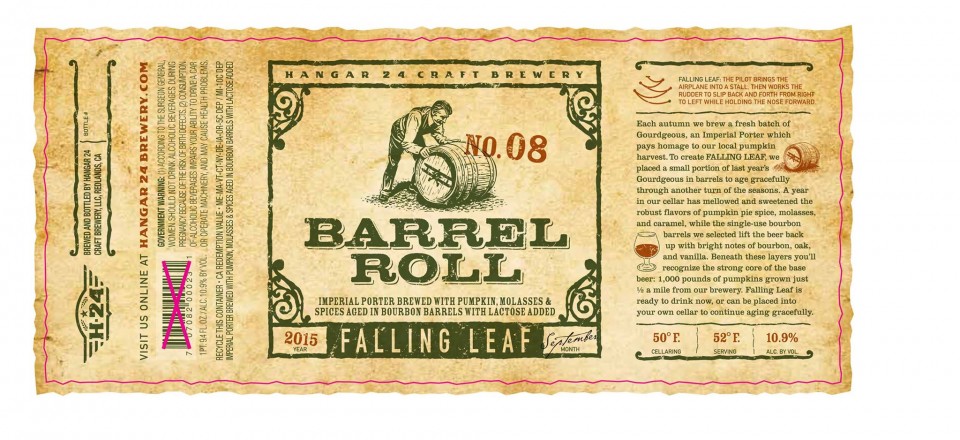 Hangar 24 Barrel Roll Falling Leaf is the newest addition to the brewery's Barrel Roll Series, releasing on September 26th, 2015.
Hangar 24 Barrel Roll Falling Leaf starts as Gourdgeous Imperial Porter, that was sequestered to bourbon barrels after the 2014 release.
Each autumn we brew a fresh batch of Gourdgeous, an Imperial Porter which pays homage to our local pumpkin harvest. To create FALLING LEAF, we placed a small portion of last year's Gourdgeous in barrels to age gracefully through another turn of the seasons. A year in our cellar has mellowed and sweetened the robust flavors of pumpkin pie spice, molasses, caramel and dark chocolate, while the single-use bourbon barrels we selected added bright layers of bourbon, oak and vanilla. Beneath these layers you'll recognize the strong core of the base beer: 1,000 pounds of pumpkins grown just ½ a mile from our brewery. Falling Leaf is ready to drink now, or can be placed into your own cellar to continue aging gracefully.
Hangar 24 Barrel Roll Falling Leaf is a 750ml bottle offering. ONLINE sales only. Show up in person to pick up your bottles.
Style: Milk Porter (w/ Lactose, Molasses, Pumpkin. Barrel Aged. Bourbon.)
Availability: 750ml Bottles
Release: 9/26/15
10.9% ABV