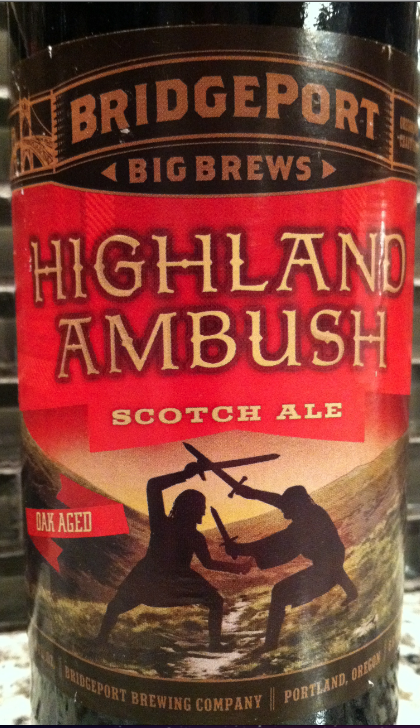 Bridgeport Brewing (Portland, OR) has brought back a beer they brewed 20 years ago – Highland Ambush.  It's a scotch ale with a barrel twist -and brewed by a Ramsay.  I'm on board with that.  Read Bridgeport's history for the lowdown.
First brewed in the 1980s as a special beer for the BrewPub at BridgePort, Highland Ambush is making its triumphant return more than 20 years later. Stuart MacLean Ramsay, then pub manager, conceptualized the brew to pay homage to his Scottish heritage. This year's Highland Ambush takes inspiration from the original ale using NW pale ale malt along with a Scottish crystal and roast malt.  The hopping rate of Highland Ambush has been toned down to help highlight the complementing vanilla from the American oak bourbon barrels and caramel-toffee malt nuances. Reddish-Brown in color, Highland Ambush will warm the coldest of toes and noses this holiday season.
Style: Scotch Ale/Wee Heavy (Barrel Aged)
Taste Expectations: Herbal hops, toasted malts. Biscuit. Caramel & toffee, vanilla, oak. Complex.
Availability: 22oz bombers.  Rare draft offerings. Limited release.
6.8% ABV