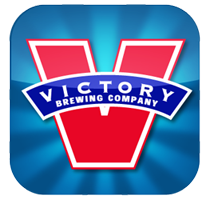 Victory Brewing will launch two things that will sure to delight beer lovers.  Eclat Cocoa Lager, and a phone app for Android & iPhone.  The phone will be free of course, and will keep you up to date with news about the brewery, where to find the beers, & more.
"When Ron and I first started Victory Brewing Company, we registered one email address for all business-specific email," said Bill Covaleski, President and Brewmaster of Victory Brewing Company. "Back then, only serious businesses needed e-mail addresses. What could we possibly need with more than one?"
"I believe we are ready to enter the 21st century now." Bill said.
Look for the application in the Android & Apple stores around the 2/15.