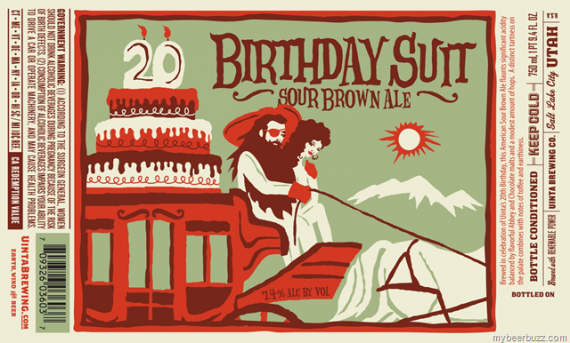 2013 marks 20 years of brewing for Uinta Brewing (Salt Lake City, UT) and with it comes a new version of their Birthday Suit. This year's 20th Birthday Suit is a sour brown ale instead of the sour cherry of 2012.
"Brewed in celebration of Uinta's 20th birthday, this American Sour Brown Ale flaunts significant acidity balanced by flavorful Abbey and Chocolate malts and a modest amount of hops. A distinct tartness on the palate combines with notes of toffee and earthiness."
Expect this to be on the shelves in the upcoming months. Last year's Suit didn't make every Uinta market. Hopefully that's different this year. Happy Birthday Uinta!
Style: Sour Brown Ale
Availability: 750 mL bottles
Arrival: TBA
7.4% ABV