Topic Archives:
Yule Tide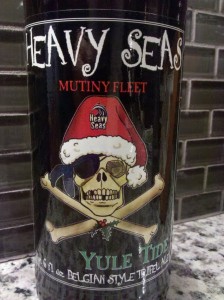 For those of you who aren't familiar with Heavy Sea's mutiny fleet, here is the run down.  Mutiny fleet is a series of 22 ounce bombers, brewed for a limited time in small batches, large on flavor, and often- alcohol.  Previous releases include Big DIPA (Double IPA), Prosit! (Imperial Octoberfest),  and Great Pumpkin (Imperial Pumpkin Ale.)
Next up, and in time for Christmas — Yule Tide.  Yule Tide is Belgian Tripel Ale.  Brewed with Trappist yeast (see previous posts about tripels & trappists) and Belgian candy sugar.   Yule comes in at 10% ABV, which could definitely help you get through Christmas parties and family gatherings…
Quick look —
Hops — 2 varieties
Malts — 4 varieties
ABV — 10%
Offering — 22 oz. Bottles
Grab it quick, as Heavy Seas Mutiny fleet bottles don't stay on the shelf long.
Tasting notes –  I have had this on cask and bottle. It's really enjoyable tripel with sweet hints on the palette and nice carbonation.  The 10% can sneak by you.