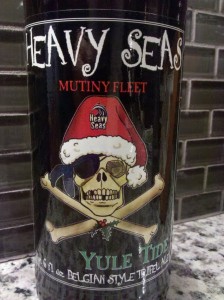 For those of you who aren't familiar with Heavy Sea's mutiny fleet, here is the run down.  Mutiny fleet is a series of 22 ounce bombers, brewed for a limited time in small batches, large on flavor, and often- alcohol.  Previous releases include Big DIPA (Double IPA), Prosit! (Imperial Octoberfest),  and Great Pumpkin (Imperial Pumpkin Ale.)
Next up, and in time for Christmas — Yule Tide.  Yule Tide is Belgian Tripel Ale.  Brewed with Trappist yeast (see previous posts about tripels & trappists) and Belgian candy sugar.   Yule comes in at 10% ABV, which could definitely help you get through Christmas parties and family gatherings…
Quick look —
Hops — 2 varieties
Malts — 4 varieties
ABV — 10%
Offering — 22 oz. Bottles
Grab it quick, as Heavy Seas Mutiny fleet bottles don't stay on the shelf long.
Tasting notes –  I have had this on cask and bottle. It's really enjoyable tripel with sweet hints on the palette and nice carbonation.  The 10% can sneak by you.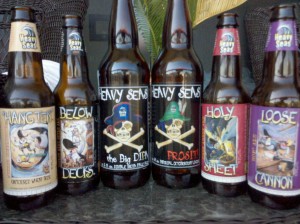 I know I've said this before, and here I will say it again.  You may know craft beer.  You may know the lineup of a brewery.  You may even be someone who can pick out the beers from a blind taste   However, until you meet the brewer and speak to him or her about brewing, you don't know it all.  Want to know it all?  Be at Brickstore Pub Tuesday night.
Hugh Sisson, founder/General Partner of Clipper City/Heavy Seas will be at Brickstore with the Heavy Seas lineup and special food pairings.
Read here on a previous write up about Hugh Sisson — http://bit.ly/zfru
First of all, its not a traditional beer dinner, i.e. no tickets need be purchased.  Just show up, order a Heavy Seas, and perhaps start up a conversation with Hugh Sisson.
Starts around 5 pm, (November 17th) until the beer runs dry.
More info follow.  Check out @atlbeermaster, @atlantabeer, & @brickstorepub for more info.
UPDATE! –  Here is the beer lineup for tonight.
Yule Tide – Cask
Winter Storm Cask – ESB, 7.5% ABV.  Hops – Magnum, Fuggle, Cascade, Centennial and Chinook.  Malts – Pale, Crystal, Carapils and Munich.
Winter Storm – Draft.  Regular offering of this ESB
08 'Hang Ten – Weizenbock, 10% ABV.  July seasonal.
Great Pumpkin Bottles – Bourbon barrel aged – Imperial Pumpkin ale, 8.5% ABV. Seasonal fall ale, with secret malts, hops, spices.
06′ Below Decks – Barleywine, 10%+.  Aged since 2006.  Traditionally offered in December.
09′ Below Decks – Barleywine, 10%.  Upcoming 2009 release of this BW.

Other bottles include –
Big DIPA – Imperial IPA,  10.6% ABV. 5 hops, 3 malts.  Released in June.  Not sold currently.
Also, – Winter Storm, & Loose Cannon
(Please excuse the terrible spacings/margins.  Trying to correct…)
Hugh Sissons, Founder and General Partner of Clipper City Brewing, made a visit to Taco Mac Metropolis on Peachtree Street downtown. With him, he brought a cask of Loose Cannon IPA.
Little bit of back-story – Hugh Sissons founded Baltimore's first brewpub in 1989 — Sisson's. It was a bit harder than you would think, as doing so required more than a business license. In 1987, Hugh successfully lobbied the Maryland General Assembly in 1987 to pass legislation allowing him to do so. If that doesn't impress you enough about his love of craft beer, I'm not quite sure what will.
In 1994, Hugh left his brewpub — Sisson's to found Clipper City Brewing — which has risen to great popularity more than a decade later. In 1998, Clipper City merged with Oxford Brewing Company — Maryland's first craft brewing company. In 2003, the Heavy Seas line was added to the Clipper City lineup, representing more bold ales beginning at 7% ABV or higher.
I got to have a great conversation with Hugh about his past, present and future. He was really excited to talk about his new Mutiny Fleet line of ales coming out this fall. First up — Big DIPA. A double IPA with 5 hops, 3 malts. (which if you are reading this now, has come and gone.) Up next for his Mutiny Fleet — Imperial Pumpkin Ale (Due in September.) More on that later. One more interesting fact about the Mutiny Fleet. All the recipes and artwork on the bottles (all 22 oz big bottles,) were done by the brewers. It's really an at home creation.
The cask was tasty, and it was a great honor and pleasure to meet Hugh Sissons. These events are great opportunities to meet the makers of craft beer, and get more in touch with what is going in your glass.
More pictures are available at the atlantabeermaster.com fan page on facebook, (do a search for "atlantabeermaster.com" on FB.)
Also — Clipper City – www.ccbeer.com