Topic Archives:
Mulberries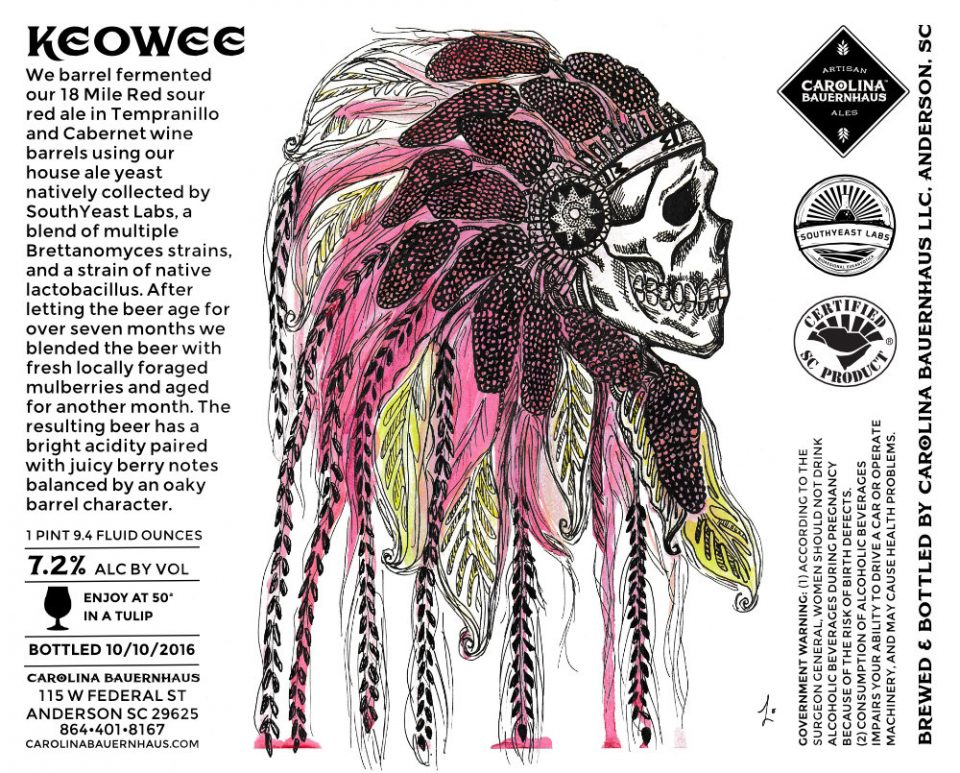 Carolina Bauernhaus Keowee is up next for the Anderson, South Carolina based brewery. Named for the Cherokee word for 'Place of the Mulberries'.
Co-founders Keston Helfrich and David Thornton have have been working on "Keowee" for a while now. According to Thornton, the release delay has been due to the availability of the star of this beer, the mulberry. Beer Street Journal tried this beer with the team back in February. The mulberries really give this beer a unique flavor.
The base beer is the brewery's 18 Mile Red Ale, aged on locally foraged mulberries (Which indeed was a task). 18 Mile ages for seven months Tempranillo and Cabernet wine barrels, and one extra month on the berries.
We barrel fermented our 18 Mile Red sour ale in Tempranillo and Cabernet wine barrels using our house ale yeast natively collected by SouthYeast Labs, a blend of multiple Brettanomyces strains, and a strain of native Lactobacillus. After letting the beer age for over seven months we blended the beer with fresh locally foraged mulberries and aged for another month. The resulting beer has a bright acidity paired with juicy berry notes balanced by an oaky barrel character.
Carolina Bauernhaus Keowee will be available on Saturday, November 12th in the taproom.
Style: American Wild Ale (w/ Mulberries. Wine Barrel Aged. Tempranillo. Cabernet.)
Availability: 750ml Bottles.
Debut: 11/12/16
7.2% ABV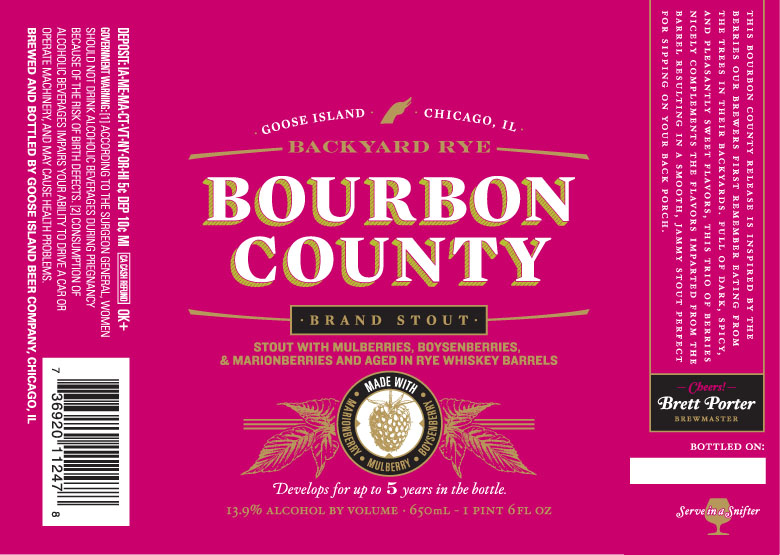 More variants surface from Goose Island Brewing. In addition the toasted coconut rye whiskey aged Bourbon County, expect this "backyard" offering.
Goose throws bosenberries, mulberries, and marionberries in the the signature imperials stout and aged it in rye whiskey barrels. This edition was inspired by the berries the brewers remember eating in their backyards growing up. Backyard Rye Bourbon County is a perfect back porch sipper.
Late November in 22oz bombers for Backyard Bourbon County. Chicago only. Sorry, America.
Style: Imperial Stout (w/ Bosenberries, Marionberries, Mulberries. Barrel Aged. Rye Whiskey)
Availability: 22oz bombers. Very limited.
Arrival: 11/29/13
14.1% ABV