Topic Archives:
Lemon Bee-Balm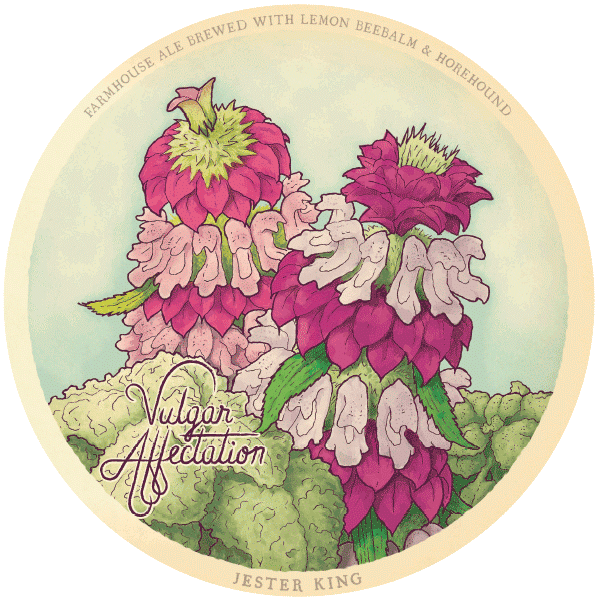 Jester King Vulgar Affection, a nearly one year old farmhouse ale, releases today.
Like all of the brewery's offerings, Jester King Vulgar Affection has a unique story. The love of foraging local ingredients for their beer, and Fantome's Pissenlit beer, brought this beer into focus.
In summer of 2014, Jester King took lemon beebalm wildflowers from a field nearby, and dried the leaves and flowers. In September, head brewer Garett Crowell dried fresh horehound and made tea using all the dried ingredients. That tea was added to the end of the boil.
Vulgar Affection spent six months fermenting in stainless steel tanks, and four months bottle conditioning (bottled in April, 2015).
Jester King Vulgar Affection will be available in the tap room August 7th, at 4 pm. $12 bottle, 3 bottle limit per day.
Style: Farmhouse Ale (w/ Lemon Bee-Balm, Horehound)
Availability: 750ml bottles
Release: 8/7/15, First Release
5% ABV, 38 IBUS
Images via Jester King
Jester king Brewery and Prairie Artisan Ales have teamed up on a new collaboration dubbed Natural Union.
Chase Healey of Prairie joined Jester King's head brewer Garrett Crowell in Austin, Texas back in August for this brew day. Natural Union is brewed using locally sourced ingredients from Texas and Prairie's Oklahoma home. Healey brought rosemary from Oklahoma, and Crowell chose lemon bee-balm going in a nearby Texas pasture.
The boiled wort was fermented in oak for three months, using brewer's yeast, and bacteria from the local air and wildflowers nearby.
Jester King/Prairie Artisan Ales Natural Union will be available in 750ml bottles and draft starting Friday, January 16th. Chase Healey will be on hand at the brewery for a special release celebration on January 17th.
Style: American Wild Ale (w/ Rosemary, Lemon Bee-Balm. Oak-aged.)
Hops: Nelson Sauvin
Availability: 750ml bottles, Draft. 900 bottles produced. $14
Release: 1/16/15
7.1% ABV, 42 IBUS
Images via Jester King