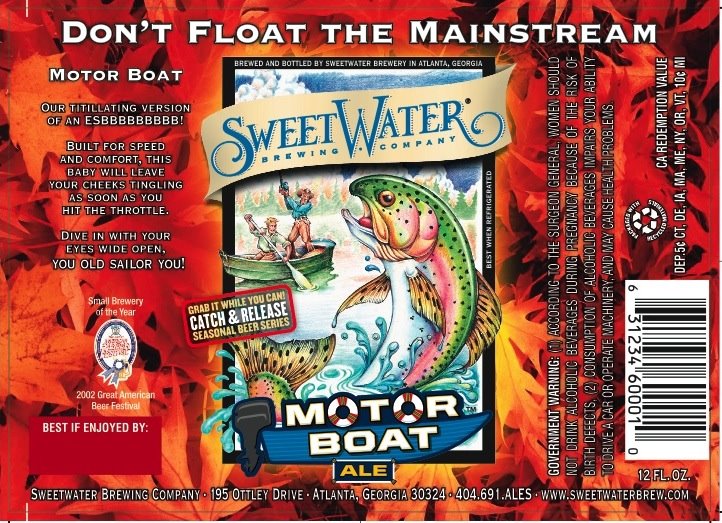 Sweetwater's Motorboat, part of the breweries seasonal "Catch & Release" series is back.  Motorboat is an ESB or Extra Special Bitter.  An ESB is a fairly broad English term for a hoppy pale ale.   A pale ale with variations. Hops give beer a bitter flavor. (Depending on how high the hop's alpha acids are, and when they were added to the boil.)    Bitters are broken down into 3 general classes – Session Bitter, Best Bitter, and Extra Special Bitter.  Their differences?  Alcohol strengths.  Bitters have evolved with an alcohol strength of 3% – 8% ABV.  Session bitters fall on the 3% end of the range.  ESB's the other end.  According to some, 8% is too high for the style.
Bitter is a bit of a misnomer.  They aren't really bitter.  The key to a good ESB is hop vs. malt balance.  You'll find ESB's to be golden to deep copper in color, and pretty clear.  (Not cloudy.)
Back to Sweetwater's Motorboat.  This seasonal release arrives annually around late July and sticks around through October.  It's dry hopped with cascade.  It's won back to back medals at The Great American Beer Festival.  It's not overwheming.  It's not underwheming.
Taste Expectations – Bread and caramel malts.  Notable grapefruit hops.  Sweet flavor.  Look for hop/malt balance.
Known Ingredients –
Hops – Cascade
Availability – 12oz/6pks.  Draft.  Late July through October. Annual release from the "Catch & Release" Series
5.6% ABV