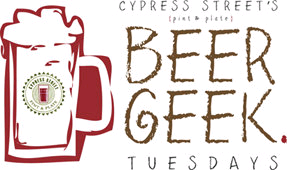 Tapping tonight at Cypress Street for Beer Geek Tuesday is a RARE keg of Founder's Black Biscuit.  Black Biscuit is an barrel aged dark/black ale.   Sound good yet?   You'd be hard pressed to find someone that has had it that didn't love this beer.
Description –  So I called Founder's to get more info on Black Biscuit.  Lots of Biscuit malt was used in this brew.  It is aged in regular bourbon barrels, with molasses added.   Black Biscuit has been described as a cross between a black ale and a baltic porter.
Taste Expectations – Oak, Chocolate, coffee, vanilla and alcohol.  Molasses and chocolate in the finish. Lots of flavors to sort out.  Complex, and fascinating.
Taps @ 6pm
Cypress Street Pint & Plate
817 West Peachtree Street
Atlanta, GA 30308
(404) 815-9243