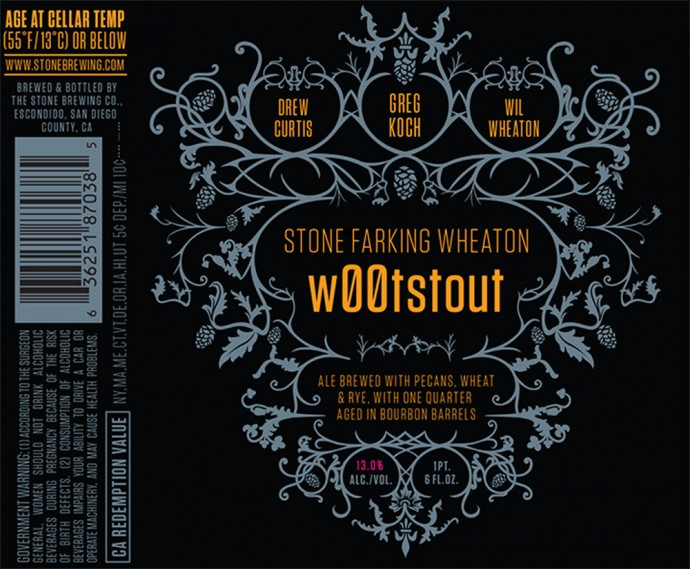 Stone Brewing Co's Founder Greg Koch, Fark.com Founder Drew Curtis, and Actor/Home brewer Wil Wheaton have teamed up for the next Stone collaboration. The aptly named Stone Farking Wheaton w00tstout features an imperial stout brewed with pecans, wheat & rye, partially aged in bourbon barrels. Nerds, beer nerds, & Fark lovers a like anxiously await a release date for this whopping 13% brew. The label tells the story:
Wil Wheaton first called us in 2004 ask if it'd be OK for him to put the Arrogant Bastard logo on his blog's website (back when people still asked permission to do such things), and I just so happened to answer the phone (back when I still answered the main line sometimes). Since he was so damn enthusiastic about our beers, I said 'Sure, no problem,' all the while thinking 'Hmmm…this guy's name sounds familiar.'
Months later, in a serendipitous turn of fate, I reached out to our 10,000th email newsletter subscriber…drumroll…Wil Wheaton. Since his gigs in the iconic Stand By Me and Star Trek: The Next Generation, Wil has become quite the renaissance man, adding author, w00tstock innovator, and homebrewer to his resume. His enthusiasm for the fermentable arts and our beer was such that after many occasions of sharing grog over the years, we decided it was time to brew in collaboration.
It was a no-brainer for us to choose Drew Curtis–who many know as the twisted mind behind Fark.com–as our third cohort. Drew was an old friend of Wil's that I had serendipitously met (when he saw me and told me, 'Dude, I love your beer) and enjoyed many beers with at the famous TED conference three years in a row. The beer you hold before you is an imperial stout made with wheat (Wil pretty much insisted), and we also paid tribute to Drew's Kentucky roots by adding rye and pecans to the mix and partially aging the beer in bourbon barrels. The result? Nothing short of serendipitous."
Greg Koch @stonegreg CEO & Co-founder, Stone Brewing Co. & Beer Seek
"Being a geek isn't about what you love; it's about how you love it. I'm a sci-fi geek, a disruptive technology geek, and a tabletop game geek. I've been lucky to do lots of work in those fields, but this is the first time I got to be a professional beer geek, and it was awesome."
Wil Wheaton | @wilw  Actor, Homebrewer & Professional Seek
"Beer tastes like my website…all over the map, but I've never met a beer I didn't like."
Drew Curtis | @drewcurtis Founder, Fark.com & News Geek
Style: Imperial Stout (w/ Pecans, Rye, Barrel Aged. Bourbon)
Availability: 22oz bombers, Draft
Arrival: TBA
13% ABV