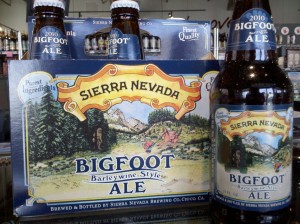 This year marks the 25th release of Sierra Nevada's Bigfoot Barleywine.  (Chico, CA)  This barleywine is a yearly favorite amongst the big beer geeks. As a yearly drinker of Bigfoot myself, I look forward to this bold, hoppy, flavorful beer.
Bigfoot hosts a plethora of hoppy ingredients. Here's your rundown —
Bittering hops — Chinook
Finishing Hops — Cascade & Centennial
Dry Hopping — Cascade, Centennial, & Chinook
Malt Profile — Two Row Pale, English Caramel
Yeast — Top Fermenting Ale Yeast
ABV — 9.6%
This gold medal winning beer is great now, and is worth cellaring for a while.  Recently had a vertical tasting of Bigfoot from 2006 — 2009 and it ages very well.
Limited release, available now.