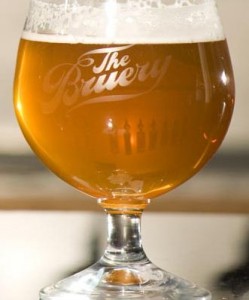 Brickstore Pub is giving you are rare opportunity to meet a brewer.  Patrick Rue, co- founder of The Bruery, Placentia, California will be headed to Brickstore Pub on Monday February 22nd for a beer dinner with Leon's.
If you haven't been properly introduced, from a previous post about The Bruery –
Founded out of the love of homebrewing, The Bruery basically started on a stove. Patrick Rue, his brother Chris and wife Rachel created an "amber" ale while Patrick was a first year law student. Over time the love of brewing couldn't be held back any longer, and their life long goal was set.
The name "Bruery" is a meld of the word brewery with the family name "Rue." All beers are unfiltered and unpasteurized. All carbonation is through bottle conditioning through secondary fermentation.
Patrick will be in town for one evening for this dinner collaboration with Brickstore/Leon's.  The dinner will contain 5 courses paired with The Bruery's beers.  There is some hope that Patrick will bring something special to share.  (Fingers crossed.)
The dinner will run you $65 dollars a person plus tax & gratuity.   The dinner is RSVP only!!  To reserve a spot, send an email to Michael "AT" brickstorepub DOT com.   Include your name, number of guests, and your phone number.
See you at the Pub!