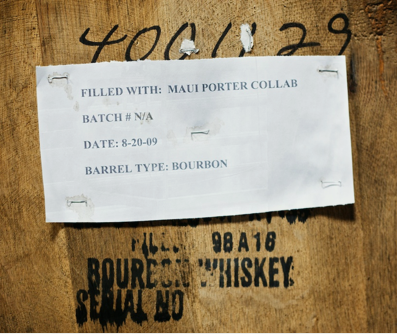 Stone Brewing (Escondido, CA) announced they are doing some barrel aging.  This isn't entirely new, but never in bottles and never formally introduced to the public.  Even as the beer geek starts salivating over this news, these won't be easy to find by any stretch of the imagination.
Here's the rub: There will be very few of these bottles available, and irregularly at that. At least for the foreseeable future. Space is our biggest constraint, and filling up our brewery with barrels just isn't an option. So if you can't get these, we're sorry, we really are. We'll try to make more, and if you can make it to one of our events, there's a chance you'll get to try them on draft. But that's the best we can do…for now.
Stone is calling the series the "Quingenti Millilitre" (latin for 500 milliliters).  The brewery has a mix of bourbon and wine barrels in it's arsenal, including some 184 Scotch whiskey barrels.  Name dropping some residents in these barrels include the soon to be released editions of Imperial Russian Stout, and BELGO Anise Imperial Russian.  There's even a collaboration sitting in bourbon right now (as seen at left) done with Maui Brewing.  672 bottles of Ken Schmidt / Maui / Stone Kona Coffee Macadamia Coconut Porter Aged in Bourbon Barrels is slated for a brewery only release in July.
Quingenti Millilitre will feature more than just barrel aging. Stone plans some double dry hopped editions of some beers too.  500 ml bottles.  Corked, caged & rare.  All to be announced in due time.  <StoneBlog>